Maui by Region
We've listed the best of Maui County by region. Below you'll find in-depth information on the different towns and areas found on our amazing island. You can also see pages on all the islands of Hawaii.
---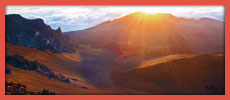 Haleakala Crater is one of the largest dormant volcanoes in the world. It rises to just over 10,000 feet and boasts views of the Big Island, Kaho'olawe, Lanai, Molokai, and most of Maui. Haleakala National Park extends down to the ocean to the southeast at Kipahulu.
Hana is famous for the road leading to it, "The Road to Hana." The town of Hana is really an incredible place that is often overlooked. Many of the Hana residents rarely leave this charming area. The people of Hana are deeply prideful of their Hawaiian Roots and live at a pace unfamiliar to the rest of the world.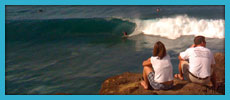 One of the most beautiful spots on Maui can be found in the far upper west at Honolua Bay. World-class surfing, as well as incredible snorkeling, are being threatened by over-development and runoff.

One of the wettest places in the world, the Iao Valley is a lush, pure, and mountainous region. Its most popular feature is the Iao Needle, a jutting pinnacle covered in lush foliage. This area is rich in ancient Hawaiian history.
Pronounced Kah-ho-o-lah-vay, this island was originally used as ranch land before the US government took over and used it for military purposes. The military bombed it for over a half-century before giving the land back. After years of destruction, Kahoolawe is being restored by volunteers.
The original tourist destination of Maui, Kaanapali has one of the most beautiful beaches in the world along with excellent snorkeling, cliff diving, restaurants, shopping, and much more!
Home to our largest airport, Kahului is the commercial center of the island. Wailuku is the cultural and local capital, but Kahului has largely become the industrial center of Maui. Conveniently located in the central North of Maui, Kahului is an excellent spot to fly into (and the cheapest.)
The Kanaio Coast along the southeast is one of the most beautiful and untouched parts of the island. Dryer than the East side of Maui, the Kanaio Coast has miles of raw and pristine coastline great for snorkeling and scuba diving.
World-famous for its unparalleled golf, this ritzy area of West Maui offers everything you'd ever want from an island destination. Great restaurants, perfect beaches, and epic accommodations.
The fastest-growing city on Maui, Kihei is a great place to find a vacation rental. Prices are far lower than that of Wailea and Kaanapali, and it's centrally located to better access the many great locations you should visit on the island.
Known for farmlands and amazing views, Kula has some of the most sought-after real estate on the island as well as some memorable farm tours.
This old whaling town has become the tourist center of Maui. Lahaina's Front Street is a quaint, rustic must-see. It sits on the water with hundreds of shops and restaurants with great views and fun people-watching.
Maalaea harbor sits on the southern edge of the valley. With a few restaurants and a world-class Aquarium, Maalaea Harbor is a great place to leave on a boat trip. Maalaea is centrally located making for a short trip from most spots on the island.

This quaint paniolo (cowboy) town is 15 minutes up from Paia Town and has excellent shopping and restaurants. This is a great town to stop at on the way to or from Haleakala Crater or the Kula area.

Makena is made up of a mixture of perfect beaches, rugged volcanic coastline, and lush tropical land. You'll find fewer places to stay down here with large expanses of untouched natural landscape. One of the most beautiful areas on Maui, Makena is the southernmost point you can visit on Maui.

Molokini is a dormant volcanic cinder cone off the coast of South Maui famous for its pristine scuba diving and snorkeling. It offers protection from swell and incredible visibility and ocean life.

Known for its small-town charm and hippy inhabitants, Paia is one of the better places to visit on Maui. With dozens of small boutiques and restaurants, the ambiance in this little coastal town is positive and warm.
Pukalani, located on the slopes of Haleakala, is not typically a tourist destination. However, in Upcountry's largest town, you can find fantastic local eats, an 18-hole golf course, bustling farmers' markets, and spacious public parks. Located at around 1,300 feet, Pukalani is the gateway to Upcountry.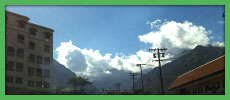 The capital of Maui, Wailuku is the cultural center of the island. Downtown Wailuku has a great theatre, some fantastic restaurants, and plenty of shops. Wailuku is experiencing somewhat of a renaissance, growing into a beautiful, richer place to visit.
Waikapu sits at the base of The West Maui mountains, in central Maui. It's home to The Maui Tropical Plantation, Kumu Farms, golf courses, and housing.
Wailea took over from Kaanapali as far as large resort areas are concerned. You'll find pristine beaches, high-end resorts, ritzy shopping, fine dining restaurants, and perfectly landscaped grounds in Wailea.
Maui Map