Maui > Kauaʻi

Kauaʻi – The Garden Isle
by: Erik Blair
Truly an island of discovery, Kauai is a lush, bright green, temple of rainbows and waterfalls. From the depths of Waimea Canyon to the cliffs of the Na Pali Coast, this Garden Isle is an incredible tropical paradise.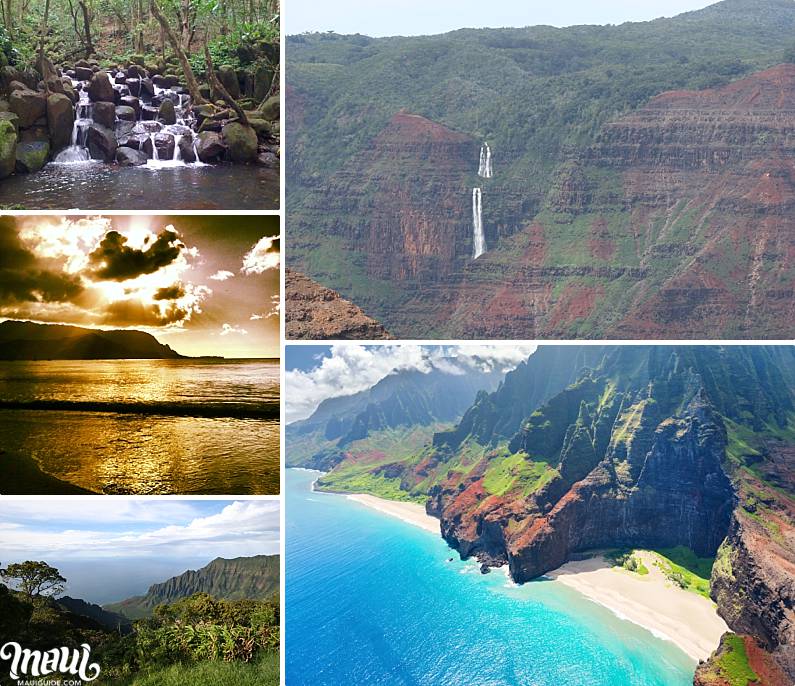 Home to about 68,000 residents, Kauaʻi is geologically the oldest, and Northernmost of the main Hawaiian Islands. The early ruler of Kauaʻi and Niʻihau was Kaumualiʻi, who resisted King Kamehameha's (of Hawaii Island) attempts to unite all the islands under his rule for many years. In 1810, Kaumualiʻi decided to join the Kingdom of Hawaiʻi rather than face further invasion attempts and became Kamehameha's vassal. This made Kauaʻi and Niʻihau the last two islands to join the kingdom of Hawaiʻi.
See Kauai Map Today Kauai is a traveler's dream with breathtaking views, epic cliffs, majestic canyons, and lush green mountains and valleys. You must remember to bring your camera because there is no shortage of dramatic vistas and remarkable scenery.
---
Getting to Know Kauai
Lihue
The busiest town on the island, Lihue is the commercial hub and Capital of Kauaʻi. The Lihue Airport is also located here, making it the first place most visitors experience. Also in Lihue, Nawiliwili Harbor is the commercial shipping and cruise ship port for Kauai.
Hungry in Lihue? Try Hamura's Saimin Stand for a local treat (behind the Salvation Army, open 10 am to 10 pm most days).
South Shore
Here you'll find the resort area of Poipu and the historic Old Koloa Town. Golf courses and sunshine aren't the only things bringing visitors to the South Shore of Kauaʻi; there are plenty of activities and history to be found here. While you're enjoying the South Shore, be sure to check out Poipu Beach, once voted America's best beach!
West Side
Visiting the West Side of Kauaʻi is like stepping back in time. This is where you can experience Waimea Canyon, also known as, "the Grand Canyon" of the Pacific. The West Side is filled with natural and scenic wonders, as well as historic places. Don't miss Kokeʻe State Park for a chance to see rare Hawaiian forest birds, such as the moa, ʻiʻiwi, and ʻapapane.
East Side
This part of the island is known as the Coconut Coast for the many clusters of coconut groves that dot the landscape. Here you'll find Wailua River State Park, Opaekaʻa Falls, and two of Kauaʻi's most populated towns, Wailua and Kapaʻa. In the mood for shopping? Kinipopo Shopping Village is located in Kapaʻa and offers a variety of interesting shops and restaurants.
North Shore
With a rugged shoreline, taro fields, huge sea cliffs, and incredible beaches, the North Shore of Kauai is sure to please those seeking natural beauty. The North Shore is famous for the majestic emerald green cliffs that grace the 17-mile shoreline of the Napali Coast.
During the summer months, you can take a boat tour of the Napali Coast; or adventure on a Kayak tour, available from Napali Makai on the West Side. But, the most thrilling way to experience the world-renowned Napali Coast is via a helicopter tour.
---
Where To Stay in Kauaʻi
When it comes to choosing the best area to stay while visiting Kauai, consider some important factors, such as whether you value being a short walk or drive to the island's most beautiful beaches and top-rated attractions, or whether you're interested in a more remote region where you can hike, surf or explore to your heart's content, regardless of how close the nearest restaurant might be.
Popular choices include the high end, north shore resort area of Princeville, where travelers come to take in the view, play a round of golf, lounge by resort pools or take a short walk on one of the few surrounding beaches, as well as Poipu, which features a more local, authentic Hawaii feel, with an assortment of beautiful beaches, restaurants, luau, and shops, most of which fall within easy walking distance to the surrounding vacation rentals.
The east shores of Kapaʻa and Wailua are also popular choices for their easy convenience to other areas of the island, as well as easy snorkeling beaches and a quick drive to other notable attractions.
For the die-hard surfers, we suggest heading to the north shore during the winter months! Otherwise, you pretty much can't go wrong anywhere on this gorgeous Hawaiian island.
---
Top 5 Scenic Spots
Hanalei Valley Overlook (North Shore)
This amazing vista provides dramatic views of the Hanalei River which snakes through Taro fields and lush mountain spires. A "must not forget camera" spot!
Keʻe Beach (North Shore)
This is as close as you can get to the twin green cliffs once called, "Bali Hai" in the 1958 movie, "South Pacific". The actual name is Makana (meaning "Gift" in Hawaiian). You'll find plenty of palm trees, a white-sand beach, and views of the Napali cliffs from Keʻe Beach.
Opaekaʻa Falls (East Side)
One of the most consistently flowing waterfalls on Kauaʻi. Opaekaʻa is 100 feet tall and surrounded by emerald greenery.
Waimea Canyon (West Side)
Mark Twain once called Waimea Canyon the "Grand Canyon of the Pacific".
14-miles long, 3,600 feet deep, and a mile wide, Waimea Canyon offers breathtaking vistas, deep gorges, and all the splendor of this majestic canyon. Along the winding road (Route 550) there are numerous lookout points and vantage points for snapping pictures of the panoramic views.
Lawai Valley (South Shore)
Lawai Valley is well-known as a healing sanctuary, because of the rich archaeological and cultural treasures found there. In 1904, early Japanese immigrants constructed 88 shrines to replicate the 88 temples in Shikoku, Japan, making it one of the oldest Buddhist temple sites in the United States. Also located in Lawai Valley is the National Tropical Botanical Garden, which is home to the largest collection of native Hawaiian plants on the planet, and more than 259 acres of lush gardens.
---
Top 5 Beaches
Haʻena Beach Park (North Shore)
Haʻena Beach Park (also known as Tunnels Beach) is regarded as the best place to swim or snorkel on the entire island during the summer months. It's a wonderfully scenic 5-acre beach, nestled between the jagged emerald mountains and the turquoise ocean. In the winter, it's a surfers paradise on the outside break, but swimming is not recommended.
Hanalei Bay Beach Park (North Shore)
Now, THIS is paradise! Imagine a huge bay circled by a beautiful beach with waterfalls and distant jagged cliffs steeped in rich tropical plant life. Calm in the summer and big waves in the winter, this North Shore beach is a favorite for water-sport enthusiasts and families and is rarely crowded.
Mahaʻulepu Beach (South Shore)
This beach is off the beaten path and although the beach is public, the road to it is private. It's worth the trek to this somewhat remote, 2-mile stretch of beach where sand dunes, caves, and limestone cliffs dot the area. Plenty of space to wander on this beach, but swimming can be sketchy even for experienced swimmers. Be sure to depart before beach access closes at 6 pm sharp.
Poʻipu Beach Park (South Shore)
The Travel Channel once touted this as "America's Best Beach". Poʻipu Beach has all the elements of a great family-friendly beach park including a protected "baby beach" on one side of an enticing sandbar. It is also nearly perfect for swimming, snorkeling, surfing, and boogie-boarding.
Polihale State Park (West Side)
This is the perfect spot for a sunset! To get here you have to travel the 5-mile very bumpy road to the beach. The other drawback to this beach is that swimming is not advised unless you are an experienced swimmer. It's private, great for sunbathing, and camping is allowed with a permit.
Here you'll find all the dramatic scenery, majestic vistas, and epic Hawaiian landscapes that even the most seasoned explorers can handle. Kauaʻi is definitely the place to find the adventurer inside of you!
---
---
Kauaʻi Map
---