Maui > Real Estate
Enjoy our monthly snapshot of available listings on Maui. We've chosen some of our favorites that won't be on the market for very long.
Upcountry Listings
Offered at $2,790,000
Upcountry views and lots of space, this 4 bedroom 3/5 bath home has been newly built with beautiful design.
---
North Shore Listings
Offered at $1,300,000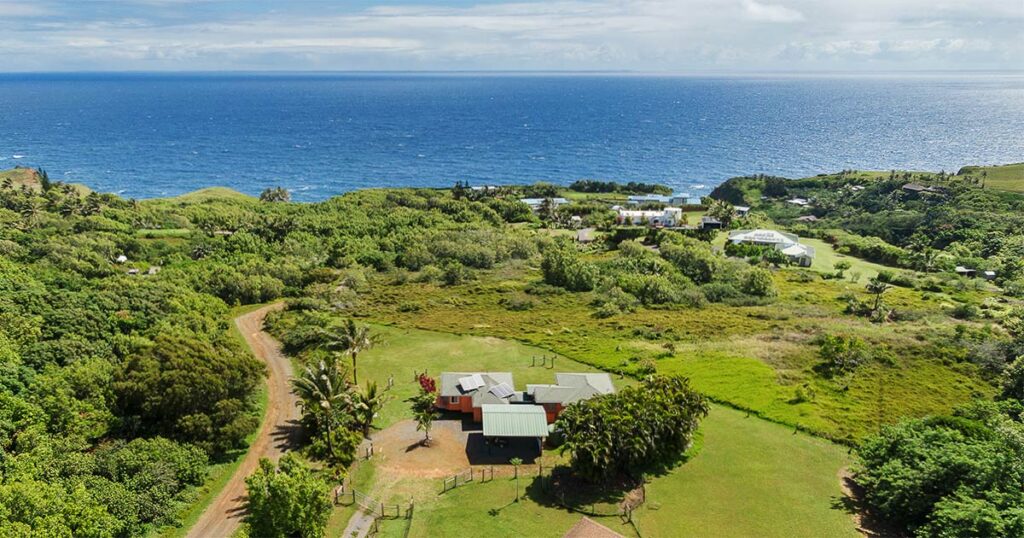 This one-bedroom 2 bath home on 3 acres will not last long. Ocean views and access to some of the more pristine areas of Huelo, this is a true gem.
---
Offered at $1,085,000
Breath-taking island views of the Pacific and of Haleakala. Conveniently located, this property is the perfect place for your North Shore dream home. Unit B is also available, see below.
---
Offered at $985,000
Gently sloping, farm-ready property with ocean views. SMA approved and permits in process for farm dwelling and workshop. The perfect ready-to-go ag property by the ocean.
---
Offered at $9,800,000
Every element, both indoors and out, was well-conceived and intentional on this 2 bedroom 3 bath dream home in Spreckelsville.
---
Offered at $17,000,000 6,000 sq feet, multiple units, sitting directly on one of Maui's most beautiful beaches. This is a dream.
---
Offered at $2,695,000
Live your best life in one of Maui's most regarded North Shore neighborhoods on the Kuau Peninsula. North shore ocean activities are just steps away and amazing Maui views are plentiful. 5 bedrooms, 3 baths, and vaulted ceilings. North Shore living at its finest.
---
Offered at $3,200,000
Rare and exciting opportunity on Maui's North Shore very close to Hoʻokipa Beach Park. Two homes and two water meters highlight this expansion-ready Paia property.  The 4 bed, 4 bath restored plantation house has modern updates and the detached guest suite provides extra space or rental income.
---
461 Laulea Place – Paia –
SOLD!
Offered at $5,980,000, sold for $4,950,000
5 bedroom, 3 baths beachfront on the North Shore of Maui! It doesn't get better than this.
---
2645 Alohia Place #A – Haiku –
SOLD!
Sold for $2,100,000
---
---
South Maui Listings
Offered at $6,500,000
It's very hard to find available, undeveloped Wailea land with this size and location. For someone looking to have exactly what they want with room to breathe, while centered in one of the most desirable areas on Maui.
---
Wailea Point – Wailea
Offered at $1,495,000 to $16,000,000
This South Maui community has one of the best locations in the State of Hawaii. These units have incredible resale value and are amazing for those living full-time or looking to rent it out as an income property.
---
Kalama Terrace L-202 – Kihei –
SOLD!
Sold for $495,000
---
Central Maui Listings
460 Polulani Drive – Wailuku –
SOLD!
Offered at $1,288,000 and Sold for $1,250,000
---
30 Hauoli Street #410 – Maalaea –
SOLD!
Offered at $425,000 and Sold for $399,000
---
886 Pakele – Wailuku –
SOLD!
Offered at $2,100,000 and Sold for $1,975,000
---
East Maui Listings
2575 Hana Highway #B – Hana –
SOLD!
Offered at $629,000 and Sold for $585,000
---
Where & How to Buy or Sell Real Estate on Maui.
Buying real estate on Maui is easier and safer than in any other tropical location in the world. Since Hawaii is part of the United States, we have the same regulations and laws to protect both the buyers and sellers of property.
Affordable Maui Homes
The most affordable locations to buy Maui real estate are Kihei, Kahului, and Wailuku. Kihei is on the Southside of Maui bordering Wailea. Wailuku is the cultural center of Maui on the Northside. Kahului is the commercial center of the island on the North.   Kihei is the best area to buy due to its location and relatively low cost. Wailea and Makena are some of the most expensive areas on the island. Ka'anapali, Kapalua, and Napili, on the upper west side of the island, are all just as expensive. Upcountry's Kula has sprawling views of Maui and also holds a hefty price tag.
The most affordable beachfront property in Maui County can be found on the islands of Lanai and Molokai. These islands hold very small populations of mostly Hawaiian farmers. Real estate here is best suited for people looking for quiet and for those that can handle their slow acceptance from locals. Lack of jobs, full-service healthcare, and many other amenities account for the low prices.
Buying Maui
Construction for new complexes in Maui is at an all-time high, despite protests from Maui local residents. Many new locations are composed of large luxury homes which only wealthy out-of-towners can afford. Maui condos manage to give hope to those who want a piece of the rock, but don't have exorbitant salaries and inexhaustible savings. A young couple can still buy a condo only a few blocks from the beach without losing their shirts.
---