Maui > Accommodations
Maui Accommodations
Places to stay on Maui, Hawaii
Maui is visited by close to 2.3 million people each year. Because of the enormous need for occupancy, Maui has all kinds of great accommodations for visitors.
Check out this video about The Whaler Resort in Ka'anapali Maui South Maui
Makena Surf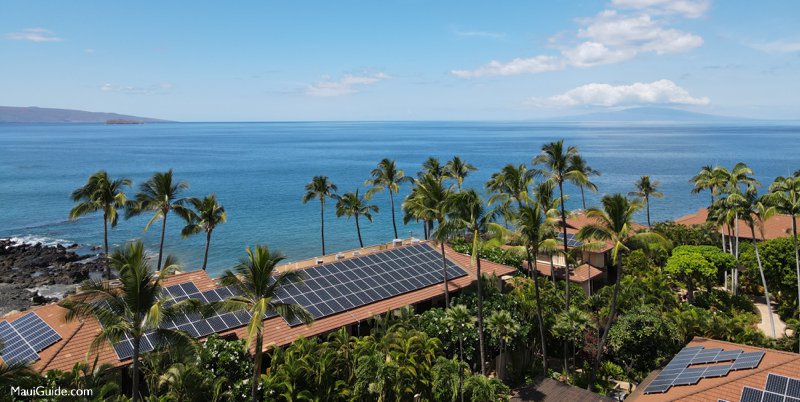 Vacation dreams come true at Makena Surf. This gated seaside retreat features stunning tropical grounds and luxuries at every turn, including tennis courts, a workout facility, pools and hot tubs, workout facility, and direct access to two quiet beaches. Privacy and tranquility reign here, but you can find bars, restaurants, shops, golf courses, and entertainment in Wailea, just a short drive away. With two to four-bedroom units, Makena Surf is the perfect getaway for groups of all sizes. 
---
Maui Coast Hotel
Across the street from the popular beach at Kamaole Beach Park I, the Maui Coast Hotel is situated right in the center of Kihei Town. Walk to restaurants, shopping, and nightlife. One and two-bedroom newly renovated hotel rooms and suites at affordable rates await you. The property has a restaurant, pool, pool bar, nightly entertainment, jacuzzis, fitness center, and everything you'd expect at a top-notch hotel in paradise.
---
Four Seasons Maui
Considered by most to be the best all-around resort in Maui, The Four Seasons Maui is ideally located in Wailea, South Maui. Everything from award-winning service to the best restaurants in Maui makes the Four Seasons the one resort all others are compared to.
---
Mana Kai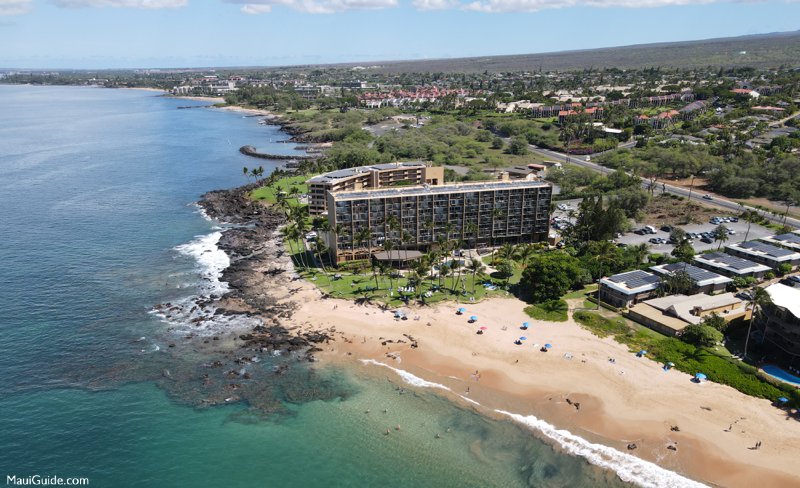 The Mana Kai is famous for its unbeatable location overlooking Keawakapu Beach. This eight-story resort features hotel-style units and one-to-two-bedroom condos, which cater to a variety of travelers. Enjoy unparalleled ocean views, direct beach access, an oceanfront pool, 808 General Store, and snorkeling steps from your unit. Nestled between Kihei and Wailea, top-rated restaurants, shops, and championship golf courses are just a short drive away. 
---
Fairmont Kea Lani
The Wailea area is marked by a string of golden beaches, perpetually green golf courses, world-renowned restaurants, and a tidy row of high-end resorts. The community is one of the most luxurious on Maui and is the retreat of choice for well-to-do travelers and residents. But even in an area known for its grandeur, the Fairmont Kea Lani stands out— not only in design but also in service, accommodations, and amenities.
---
Ho'olei
Ho'olei is a quiet, luxurious escape in the heart of the Wailea Resort. This beautifully manicured, gated property features a collection of palatial three-bedroom townhomes. Hoolei is just a short walk from award-winning luaus, five-star restaurants, Wailea Beach, and the Shops of Wailea. With ocean views and a serene pool area, you'll enjoy the best of Wailea's luxurious offerings in a tranquil, secluded setting. 
---
Kihei Surfside
Panoramic ocean views and a terrific central location are some of Kihei Surfside's biggest draws. Spend sun-drenched days at Keawakapu Beach— located just steps from the property— or laze out at Kihei Surfside's heated swimming pool. One-to-two-bedroom condo units, an expansive lawn area, and communal BBQ areas make Kihei Surfside great for family gatherings. 
---
Hotel Wailea
Beautiful views, spacious grounds, and excellent restaurants make this property something special. Just up the hill from Wailea Beach and the other resorts, Hotel Wailea was built with far fewer units than anyone would build these days on such a large piece of land, much to the delight of anyone visiting.
---
Kohea Kai Resort
Located in a convenient area of North Kihei, this beautifully renovated resort includes an ocean view, a spacious rooftop deck, and many private guest rooms (rooms, studios, suites, and penthouses) only 30 steps away from an uncrowded stretch of beach. Great service, free deluxe breakfast, no resort fee, 24-hour room service, concierge service, 24-hour desk, complimentary adventure equipment, and friendly vibes make this a great option. This is a central spot to stay for those looking to explore Maui.
---
Upcountry
North Shore Lookout
Located just up the road from Makawao town, North Shore Lookout is the ideal retreat for those looking to escape the crowds of the busy resort areas. This boutique, plantation-style bed and breakfast sits on an expansive nine acres, complete with a pool, jacuzzi, and five stylish private suites to choose from. North Shore Lookout's Upcountry location serves as the ideal starting point for a handful of Maui adventures, such as Haleakala Crater, and the Road to Hana, and is in close proximity to some of the best hikes, beaches and activities the island has to offer.
Maui County Permit #BBMP20170003 HI TAT #TA-174-391-0912-01
---
West Maui
Kaʻanapali Aliʻi Resort
This perfectly situated high-rise offers remodeled condos, both one and two bedrooms, with the most epic views of the ocean. Directly on Kaʻanapali Beach with a pool and BBQ area only steps from the ocean, the Kaʻanapali Aliʻi is everything you'd want in a relaxing vacation. Walk to tennis, golf, luaus, restaurants, and shopping. Take advantage of sunrise over the ocean from your own room!
---
Kaʻanapali Beach Hotel
A mainstay for many regular Maui visitors, the Kaʻanapali Beach Hotel is not only full of excitement but is also conveniently located near many of Maui's best attractions. From the white sands of Kaʻanapali Beach and Black Rock to ukulele lessons and a hula show, there is something for everyone at the Kaʻanapali Beach Hotel. Also, the Whalers Village shopping area is a nice walk or a short drive from the hotel.
---
Ritz-Carlton Kapalua
The gem of upper west Maui, The Ritz-Carlton Kapalua sits over the ocean with some of the best views on the island and best Maui resorts. Amenities are near endless at this top-notch resort in Kapalua. The Ritz also has an ocean club with units for sale. This Luxury Maui Property is made into condo-like parcels. 
---
Sheraton Maui
The Sheraton Maui Resorts has an almost mythic quality about it, especially during their nightly torch lighting ceremony. The unique building is only rivaled by its outdoor water features, which include a lagoon, waterfalls, and much more.
---
Central Maui
ʻIao Valley Inn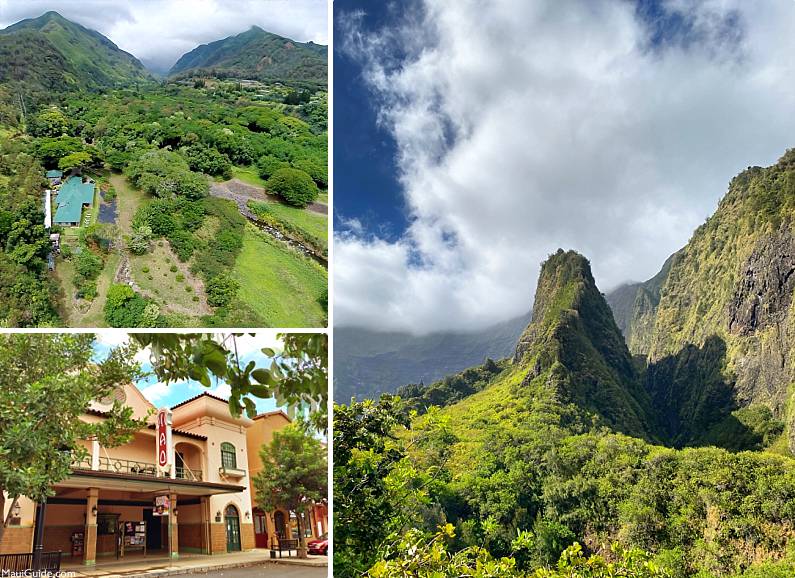 Located only a five-minute drive from ʻIao Valley State Park, ʻIao Valley Inn is the perfect retreat for travelers seeking privacy, peace, and beauty in one of Maui's most scenic areas. Close proximity to many restaurants, shopping, nightlife, and entertainment in Wailuku Town and a great option for couples, individuals, or friends. This privately-owned B&B is a treat for those lucky enough to know about it! (808) 633-6028
---
Special Note: What's in a name?
In order to clarify, Maui Resorts are considered to be the higher-end luxury accommodations on Maui. Maui hotels are mid-priced buildings that aren't quite as expensive as the Resorts and with fewer amenities. This needs to be distinguished now because you'll find that most Maui condominiums and hotels refer to themselves as resorts. Though they may be very nice oceanfront units, we've reserved the distinction of Resort for those complexes with a spa, pool, oceanfront, restaurants, and all the other wonderful things that make a resort special.  And though they can be equally as impressive, everything else can be considered Maui vacation rentals. If you're looking for something more rustic, you might be interested in camping in Maui.
---
---
---