Sheraton Maui – Kaʻanapali, Maui
Sheraton Maui Review
My wife and new baby enjoyed 2 nights and almost 3 full days at the Sheraton Maui Resort & Spa at Black Rock in Kaʻanapali over the Halloween weekend. Overall, our experience was excellent, and we've outlined a few of our favorite characteristics of this massive property as well as a few things they could improve.
Rooms • Pools • Restaurants • Starwood Perks • Sheraton Luau • Overview
---
---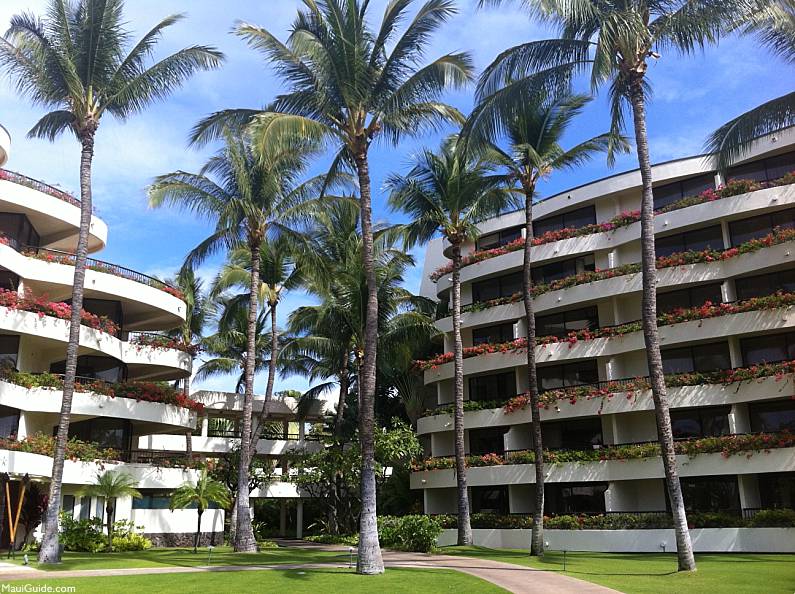 Sheraton Maui Rooms
When we checked in, our room was upgraded to ocean view due to our being Starwood members. (There are plenty of perks to being a member, of which I've gone into more detail below.) Our room was in building 2, which was close to the entrance. Our concierge put us there to be helpful since we had a young baby. I personally believe we'd been put there in order to have less direct neighbors. Both made for good reasons since our baby wailed the first night without stopping. I pity any neighbors within earshot (and am so sorry!!)
The room was plenty big enough for our little family with a king-sized bed, nice bathroom, and lanai with a partial ocean view. A big palm tree blocked most of our view of the ocean, but there's really not much that can be done about that. It was still beautiful. The king-sized bed looked a little short, but we may just be spoiled with our big bed at home. It fit my wife and me (neither of us is over 6 feet tall, but anyone taller than that might find a toe hanging over the bed.)
Suggestions
A few suggestions: We would've liked to have had a couch or seating area (we didn't pay for additional upgrades), the cable modem was hard to find, and their movies were a bit misleading. The modem was sitting on the floor tucked behind the side table next to the bed. Wouldn't it normally be on the desk? I didn't find it until a few hours before leaving and had to suffer from a very weak internet wifi signal (hence the late posting of this article.) As far as the movies, it advertised a bunch of movies you could buy, but they didn't offer them all. Hangover 2 among others were unavailable for purchase. It's just as well considering the cost of the movies. Some cost in excess of $17! I guess this is also pretty standard for high-end resorts.
---
Check out this video of the Sheraton Maui Luau. ---
The Sheraton Maui Pools
The pools were excellent. Plenty of winding river-like paths of water connecting different areas (not uncommon for resorts in Hawaii.) The kids love these features, and I do too. Makes for a pleasing, tropical feel to the property. We always managed to find shade, even during peak sunbathing times. The resort was obviously not fully booked, and given that they have 508 rooms, I can't imagine there would be room around the pool at full capacity. Thankfully, the beach is right there.
My only gripe (other than the pool restaurant, which I discuss next) would be the small towels. They cover only half the deck chairs. They give you enough towel for any normal-sized person to dry off with, but not enough to lay completely on a towel.
---
Sheraton Maui Restaurants
Black Rock Terrace
Our first experience was dinner at the Black Rock Terrace. This is the Sheraton Maui's version of in-house fine dining. We went into it rather wary due to past experiences at "fine dining restaurants" at resorts. Well, we came out very pleased! Everything was delicious and the staff was friendly and helpful. We both had the Maui onion soup, which didn't disappoint. I also had the Filet Mignon and the Short Rib. The filet was cooked perfectly, and the short rib melted in your mouth. The short rib had a touch too much salt in the sauce, but it didn't ruin the dish. It was incredibly tasty, and we devoured everything in front of us. The Ambiance was warm and romantic with water features around the dining area. And the baby slept throughout the meal (PERFECT!)
Cliff Dive Bar
Our first encounter with The Cliff Dive Bar was while lounging by the pool. We ordered a massive portion of nachos (with the cheddar cheese option) and pulled pork. It was very good and above average for pool food. The cocktails and beers were overpriced, but that's to be expected at any resort pool.
We sat down for lunch for our second and final encounter at the Cliff Dive Bar. It was disappointing due to the quality of the food, drinks, and pricing. The view and location of the beach are unparalleled, which made it more of a shame that the food didn't match. The food was what you'd expect at a second-rate resort pool bar in Palm Springs. It could be such a great spot for lunch. The burger was ok, but not for the $17 price. My wife ordered orange juice, then iced tea, then realized that everything came out of a gun. Nothing seemed as fresh as we'd like. Again, we understand that when the resort is at full capacity, it would be harder to keep up high volumes of real juice and high-quality food, but the price didn't reflect this. Unfortunately, I think this is another situation where a big resort takes advantage of the fact that many of their guests don't rent a car and are stuck with their options. I guess when you go to places like Ferraro's at the Four Seasons Wailea, and you get spoiled by out-of-this-world food for the same prices, it's hard to understand why they don't take advantage of their prime location. Whaler's Village is only a short walk from here, and Cane and Taro is a great restaurant if you're looking for something better.
---
Starwood Membership Benefits
I signed up for a Starwood American Express at the highly recommended suggestion of a friend, and I don't regret it. I put most of my business expenses on it, and the points add up fast. Originally I planned on using the points towards airfare, but the value in hotel/resort use is far better. I've stayed at 5-star resorts across the globe thanks to this card (and it cost me near to nothing.)
At the Sheraton, the Starwood benefits are good, but the best benefit was our 4 pm checkout. That's the way all hotels and resorts should run. Obviously, this can't always be done since people need to check in after a good cleaning. But most hotels have the capacity to rotate the empty rooms and offer this privilege. We loved it, and it afforded us another day at the pool.
---
Sheraton Maui Resort Overview
Overall, the Sheraton Maui at Black Rock has the best location in Kaʻanapali, is immaculately maintained, has beautiful tennis courts and pools, is serviced by a great staff, and offers convenient shuttle services to boot. It's a top-notch resort and worth the dough.
---
---
---
Sheraton Maui Map
---