Kaanapali is the resort area in west Maui just a few miles north of Lahaina. The Kaanapali Beach Resort was developed in the 1960s, which subsequently opened the world's eyes to this area as a tourist destination. Since then, many hotels and resorts have popped up and tourists have flocked to Kaanapali Beach and the surrounding pristine Maui Beaches.

Some of the big resorts found in Kaanapali are the Sheraton, Hyatt, Westin, Kaanapali Beach Hotel, the Whaler, and Kaanapali Alii. Just north of Kaanapali is Kapalua, another resort area.
See Kaanapali Map Ka'anapali remains a favorite for both first-time and repeat Maui visitors as it is one of the island's main tourist hubs. While all visitors should get out and explore all that Maui has to offer, there is enough to do in Ka'anapali to keep you occupied for the entirety of your stay. With a slew of resorts located just steps from Ka'anapali Beach, naturally, there are a handful of water activities to keep you busy. Some of the island's best snorkel spots are located near Ka'anapali, including the famous "Black Rock", which is a famous cliff jumping site for both locals and visitors. Ka'anapali Beach is also a launch point for several catamaran tours. In the winter months, hundreds of humpback whales flock to the shallow waters around Ka'anapali, making the area one of the best places on the island to whale watch. (Pro-tip, if visiting Ka'anapali during the winter, try to get an ocean-view room! You are guaranteed dozens of whale sightings from your patio during this time of year!)  And all year round, you can go ziplining on Maui.
Around sunset, there is no better place to be than Ka'anapali Beach. Enjoy stunning sunset views as the sun settles near the neighboring island of Lanai. If you look closely, you may be able to see the green flash!
After dark, there are dozens of dining and shopping experiences to enjoy. The Ka'anapali boardwalk is studded with a handful of delicious restaurants to choose from, many offering live music and happy hour deals. Whalers Village is also located in Ka'anapali and is a great place to get some shopping done. 
---
Things to do around Kaanapali
Take the Four Winds directly from Lahaina to the best nearby snorkel locations. They offer private charters, as well as shared charters. We love their crew. THE BEST!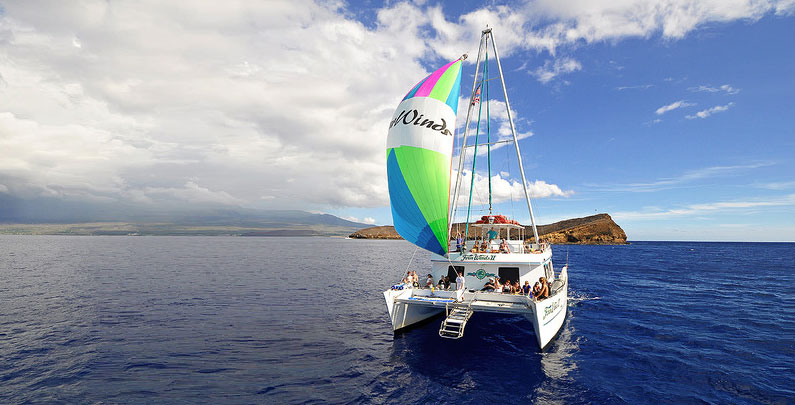 HeleWai Eco-Tours' team of passionate naturalists lead this hike through one of West Maui's remotest and most scenic reserves. With groups of no more than four people—which translates into a quiet, intimate experience—the Honolua Ridgeline Hike takes trekkers across private land that's closed to the public. There, you'll have the chance to see striking vistas and incredible flora and fauna. Along the way, you'll learn about Honolua's cultural and environmental importance—and might be inspired to join the movement to protect West Maui's watershed and native forests.
---
Ka'anapali Map
---