This month, the tropical winter is in full swing. Here on Maui, that means cool breezes, rainbows, and lots of whales! Whether you choose to spend your tropical winter getaway browsing local markets or jamming out at one of the shows in this month's lineup at the MACC, there are an abundance of ways to enjoy yourself this January on the Valley Isle.
For more information or to see the best weekly, monthly and yearly celebrations, check out our calendar of Upcoming Maui Events.
What's Happening on Maui for January 2023?
Live music is still happening around the island, with local musicians jamming almost every night at some of the island's best restaurants. Check out Mana'o Radio's
Music2Nite site for a full lineup of Live Music on Maui.

Maui Events January 2023
January 4
Sentry Tournament of Champions: Golf stars are set to tee off at the PGA year opener at the award-winning Plantation Course in Kapalua on January 4th. With a winners-only format, this tournament is one of the most coveted events in the golf world. This year, two keiki can enter free with one adult admission. 
January 5
A Night of Comedy with Pauly Shore: Join comedy icon Pauly Shore at the Maui Arts and Cultural Center for a hilarious stand-up commentary. Shore will be joined by Maui's own Chino LaForge and Ted Anderson. 
White Hawaiian: Eric Gilliom's legendary one man show is back for another weekend at the Pro Arts Playhouse. This autobiographical revue covers the life and times of Gilliom, from growing up with Grammy award-winning sister, Amy Hanaialii Gilliom, to his Broadway roles. 
January 6 
Smash Mouth: The San Jose-based group Smash Mouth is best known for their early 2000's hits All Star and I'm A Believer, which was featured in the Shrek soundtrack. Don't miss their special appearance at the Maui Arts and Cultural Center.
HIRIE: With a mesmerizing voice and contagious energy, HIRIE captivates audiences around the world and in her home state of Hawaii. HIRIE will be joined by Oahu-based reggae artist KBong, who was part of the original Stick Figure group. 
January 7 
The S Effect – Cabaret Extravaganza: The cabaret is coming to Da Playground! Spend a sultry evening in Maalaea and enjoy a heels dance show like you've never seen before.  
January 8 
Fortunate Youth: From backyard BBQs in Southern California beach towns to its rise as one of the most popular reggae rock bands in the country, Fortunate Youth remains devoted to its roots and a simple mission: Spread peace, love, and unity with music.
January 13 
2023 Annual Juried Exhibition: This prestigious exhibition at the Hui No'eau gives visitors an opportunity to view current work by local artists in all media. The Hawai'i State Foundation on Culture & the Arts recognizes this exhibition each year through its Art in Public Places Program.
January 15 
Trampled by Turtles: Trampled by Turtles are an American bluegrass-influenced folk band from Duluth, Minnesota. They have released nine full albums, three of which have reached US Billboard bluegrass chart number one spots. 
January 19 
Street Sounds: Head to Da Playground for the Street Sounds Maui Tour, filled with original music as well as the island reggae music you love. Come out for a musical performance filled with self expression, storytelling, and culture. Street Sounds comes to you all the way from San Francisco, ready to jam out all night long. 
January 21
Jake Shimabukuro: Over the past two decades, Jake Shimabukuro has proved that there isn't a style of music that he can't play. Many call him "the Jimi Hendrix of the 'ukulele." You won't want to miss this epic performance at the MACC.
Collie Budz: Colin Patrick Harper hails from the tiny island of Bermuda. In the music industry, he is known as the reggae artist Collie Buddz. Collie Budz has earned praised from prestigious outlets like Billboard, and has performed alongside artists like Russ. 
January 22
Maui Pops Orchestra – Broadway Pops: Maui Pops Orchestra's annual sell-out Broadway Pops concert features the vocal talents of Nikki Renée Daniels & Jeff Kready in songs of Rodgers & Hammerstein, Stephen Sondheim, Andrew Lloyd Webber and more. Both with extensive credits on Broadway, television and in concert halls, this engaging couple will bring you the excitement of the Broadway stage!
Will Evans with Paul Izak: Will Evans has spent the last decade as the primary songwriter and frontman for the New England-based roots-rock outfit Barefoot Truth. After four albums and 50+ million streams on Pandora & Spotify, he's embarked on his solo journey—carrying along some of the Jack Johnson-ish vibes from his earlier band. He's since released three additional full-length albums and traveled the U.S. & Europe several times over.
January 26 
The Rascals Featuring Felix Cavaliere & Gene Cornish: Time Peace Tour: With No. 1 songs like Good Lovin', Groovin', A Beautiful Morning, I've Been Lonely Too Long, People Got To Be Free and How Can I Be Sure, The Rascals are considered the best 'blue-eyed soul' group to come out of the 1960s. 
January 27 
Kanekoa: Love The 80s: Kanekoa is best known as one of Maui's top musical experiences, delivering fresh ukulele-powered tunes. This special performance at the Pro Arts Playhouse will be inspired by the sounds of the 1980s. 
January 28 
An Evening With The Drifters, Platters, and Coasters: Spend a nostalgic evening with some of the world's most beloved and influential instrumental groups. The Drifters, Platters, and Coasters were instrumental in creating the rock and roll/doo wop sound. Don't miss this unforgettable show at the MACC.
Buy Back The Beach (21st Annual): Hawaii Land Trust is proud to present the 21st annual Buy Back The Beach Benefit Luau, held at Old Lahaina Luau. Enjoy a lively evening under the stars with entertainment by Old Lahaina Luau entertainers, Eric Gilliom, and Vince Esquire. The event also includes a live and silent auction. Proceeds go to benefit land conservation on Maui. 
The Movement: The Movement has been winning over alternative-reggae fans since the band emerged in 2003. The four-piece group is widely known for their hit song, Habit, and they're seventh studio album debuted at #1 on the Billboard reggae chart. Don't miss them at Da Playground!
January 29 
Lewis Black: Off The Rails: Often called 'King of the Rant,' Lewis Black is known for his trademark comedic style and ability to make people laugh at the absurdities of life. Black's hilarious comedy covers current events, social media, politics, and anything else that exposes the madness he sees in the world.
Weekly Events
Mondays
Lei Po'o Making: The Shops of Wailea invites guests to learn how to weave ti leaf leis using ferns and flowers. Lei Po'o can be worn on the head and was typically used as a gift on special occasions by Ali'i (Hawaiian Royalty). This event is open to both keiki and adults and runs from 2:30 to 3:30 pm.
Tuesdays
Polynesian Show at The Shops: This weekly show will highlight Hawaiian hula as well as other dances of Polynesia. The performance will take place at the Shops of Wailea from 5:30 to 6:30 pm.
Coconut Husking at The Shops: From 2:30 to 3:30 pm weekly, the Shops of Wailea will be hosting demonstrations of the traditional and modern methods in husking a coconut. Learn how the Hawaiians would use every part of the coconut from food to crafting eating utensils, jewelry as well as furniture.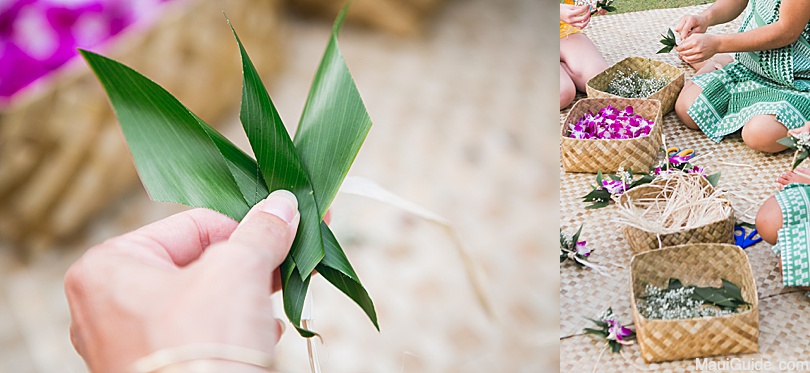 Wednesdays 
Lei Po'o Making: The Shops of Wailea invites guests to learn how to weave ti leaf leis using ferns and flowers. Lei Po'o can be worn on the head and was typically used as a gift on special occasions by Ali'i (Hawaiian Royalty). This event is open to both keiki and adults and runs from 2:30 to 3:30 pm.
Slack Key Guitar Show: The Masters of Hawaiian Music Slack Key Show is open for live shows once again. The Slack Key Show ohana will perform each week at 6:30 pm at the Napili Kai Beach Resort. Tickets are required for entry, this show is also streamed online.
Thursdays
Polynesian Show at the Shops: This weekly show will highlight Hawaiian hula as well as other dances of Polynesia. The performance will take place at the Shops of Wailea from 5:30 to 6:30 pm.
Coconut Frond Weaving at the Shops: The Shops of Wailea invites guests to try their hand at the highly developed Hawaiian skill of weaving. Coconut frond weaving was used to make baskets, mats, and even toys. This event runs weekly from 4:30 pm to 5:30 pm.
Fridays
Papa Hula at the Shops: Hosted at the Shops of Wailea, Papa Hula is a celebration of the Hawaiian way of life. Enjoy a complimentary dance lesson, complete with costumes and accessories, and the dance movements and their meanings. This interactive performance runs from 4:00 pm to 5:00 pm.
Saturdays
Upcountry Farmers Market: Shop some of the best local souvenirs on the island, indulge in delicious food and support local farmers at one of Maui's biggest weekly events. Don't forget to set your morning alarm, as this market favors the early shopper. The Upcountry Farmers Market runs from 7:00 to 11:00 am every Saturday at the Kulamalu Town Center in Pukalani.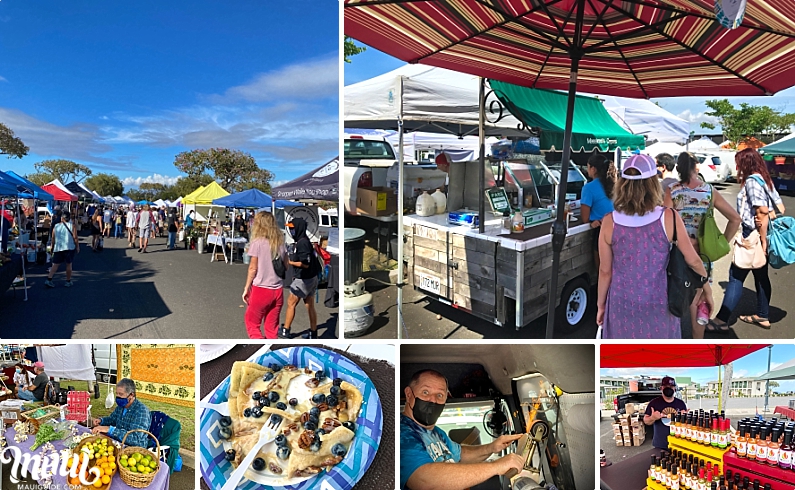 Sundays
Maui Gift and Craft Fair: Stop by the Lahaina Gateway Center and browse West Maui's largest gift and craft fair. This weekly event hosts over 50 vendors, showcasing jewelry, photography, art, crafts, keiki activities, and more. Maui Gift and Craft Fair runs from 9:00 am to 2:00 pm every Sunday.
Maui Sunday Market: Featuring some of Maui's most renowned food trucks, local vendors, and quality entertainment, the Maui Sunday Market is one of the island's most popular weekly events. Centrally located at the Kahului Shopping Center, the Maui Sunday Market draws locals and visitors from all corners of the island. The event runs every Sunday from 4:00 pm to 8:00 pm.
Family Class at Island Art Party: That's right, Island Art Party is back in action! Maui's most fun, family-friendly art class is once again accepting bookings. Sundays are reserved for Family Class, where ages 8 and up are welcome. From mermaid to sunset scenes and more, select the masterpiece you want to create and bring home your own artwork!
Shoot us a message with any events that are still scheduled that you think will still be happening.  We don't know when the Coronavirus travel restrictions will end, so please let us know what you have planned.  We'll add it here!  Also, get Hawaii Coronavirus Updates.
Mahalo for reading our list of Maui's coolest events for this month! We hope you have a memorable experience exploring the beauty of the Aloha State, and be sure to let us know your favorite activities in the comments below. Aloha!