Haleakala National Park
Skip ahead to learn about:
See Haleakala National Park Map ---
Summit District
The landscape of Haleakala National Park rises from a lush valley beneath a waterfall at sea level to a red desert of cinder cones up at the volcanic summit of Haleakala. An astounding array of climates and life zones lies in between. Yet the park's many contrasting worlds are vitally linked. Rain that falls on the volcano's slopes and carves its valleys nourishes a multitude of life forms.
The land above the clouds, kua mauna, is a place where people never dwelled for long. Ka poʻe kahiko, the people of old, only came to this sacred place for specific reasons requiring training and understanding. At the foot of the mountain lies kahakai, the coastal land, inhabited and cultivated for centuries. Haleakala National Park preserves and helps perpetuate the cultural richness of both kua mauna, kahakai, and the diverse features in between. It is all here for you to explore.
---
Van Tours
Haleakala Sunrise Tour
While every time of day is stunning at the 10,000-foot summit of Haleakala Volcano, it is sunrise that has captured the hearts of visitors and locals. Watching the sun peek slowly through the clouds and light up the magnificent crater of Haleakala – large enough to fit the entire island of Manhattan – one sunrise atop the largest dormant volcano in the world will leave you in awe, just like the rest of us.
Though some visitors opt to make the winding, early morning ascent through Upcountry in their own rental car, we prefer to leave the driving portion to the pros on the special Haleakala Sunrise Tour. Not only will you be picked up and dropped off directly from your accommodation, but you'll be served a light breakfast before sunrise, warm beverages at the summit, and an island-style breakfast buffet on the journey back down.
Haleakala Daytime Tour
For those who prefer to leave their alarm clocks at home when traveling in Hawaii, there are still plenty of reasons to explore Haleakala during the daytime. As an added bonus, visitors during daytime hours will often be rewarded with a quieter experience and (perhaps even better) photo opportunities due to fewer crowds and more predictable lighting.
The guided tours of Haleakala offer incredible views throughout your visit to Haleakala National Park, as well as additional stops at some of Maui's most pristine and photogenic areas, including ʻIao Valley State Park, Kepaniwai Gardens, Maui's most charming historic towns, forests and ranches of Upcountry, and various churches and important buildings.
Hana
Haleakala doesn't start and end at the summit, despite what your Auntie Margaret may say. Though a high percentage of travelers make the trip up to the summit, few are willing to make the 600+ turn drive beyond Hana to explore the remote, rugged backside of Haleakala National Park. Locally dubbed 'the divorce highway,' the Road to Hana is undoubtedly one of the most gorgeous road trips in the world, especially if you're not the one doing the driving!
We recommend the fully guided Road to Hana Tour for not only your ease of mind when it comes to navigating, but because of its small group size, fascinating local commentary, and knowledge of the top spots given during the tour. From cascading waterfalls to blowholes and black sand beaches, all you'll be tasked with is enjoying the ride. Call (808) 460-6055 for tour bookings and more information.
Haleakala Bike Tours
Add a little action to your Haleakala highlights with a guided downhill biking tour with Cruiser Phil's Volcano Riders. Choose from the Sunrise Tour, which includes a hotel pick-up time of 3 am and a special sunrise viewing at the summit of Haleakala Volcano, or the later 8 am Morning Bike Tour, for an experience that'll leave your heart rate and sense of adventure reeling. Take in the views on the van ride up the volcanic slopes, learn interesting Maui facts and tidbits along the way, and let your guide lead the way down the 26-mile downhill trail. Tours include scenic stops in Kula, well known for its local winery and bright green landscapes, as well as Paʻia Town, the north shore Maui town loved by locals and visitors alike.
Alternately, take the reins into your own hands during a self-guided downhill bike tour with the pros at Bike Maui. Choose from the Sunrise Special or Summit Deluxe Tours, which include a van ride to the summit and a guided experience of Haleakala National Park, or the Haleakala Express Tour, which drops you right at the 6,500-foot starting point of your bike ride. Navigate the 23-mile trail at your own pace, stopping to enjoy Upcountry views, attractions, and activities along the way, and meet back in Haiku by 4 pm to return your bicycle, helmet, backpack, rain gear, and all other gear included on the tour.
Maui Zipline Tours
Haleakala is also home to some excellent Maui zipline courses. A great way to get a real feel for the lush slopes of Haleakala is by ziplining above and through it!  
---
A Good Stop On The Way Back
Situated on the slopes of Haleakala at the far more suitable 1800′ elevation mark sits Mahalo Aleworks – Upcountry's only brewery. Here, a team of brewers creates "hyper-local" beers, utilizing seasonal ingredients grown on Haleakala's northern flank. After locally sourcing everything from fruits and spices to wild yeast and bacteria, the beers are brewed in-house at Mahalo Alework's Kulamalu taproom.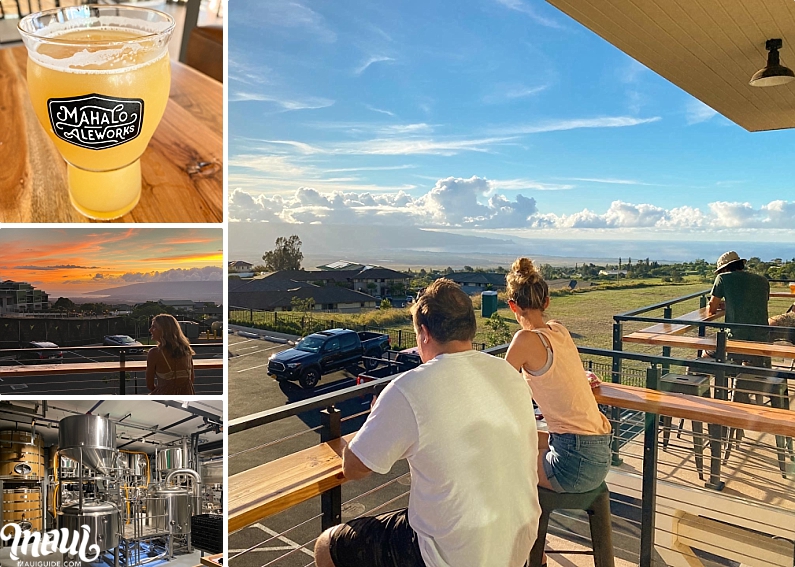 The brewhouse also boasts two stories worth of spacious indoor, outdoor, and lounge seating, as well as stunning bi-coastal views. Should you arrive feeling hungry, you can chow down on a gourmet sausage, fresh off the grill from Upcountry Sausage Co, or order up some sourdough pizza from Restaurant Marlow, located right next door. Decidedly, Mahalo Aleworks is one of the best places to unwind and sip some Upcountry brewed beers after the long drive to and from Haleakala Summit.
---
Kipahulu: Coastal District
Trails skirt dramatic coastline or follow pooling streams to Waimoku Falls at the head of a densely forested valley. At Kipahulu you can get a sense of how people lived in old Hawai'i. Foundations of old village sites, cultural demonstrations, and a living taro farm are preserved and perpetuated.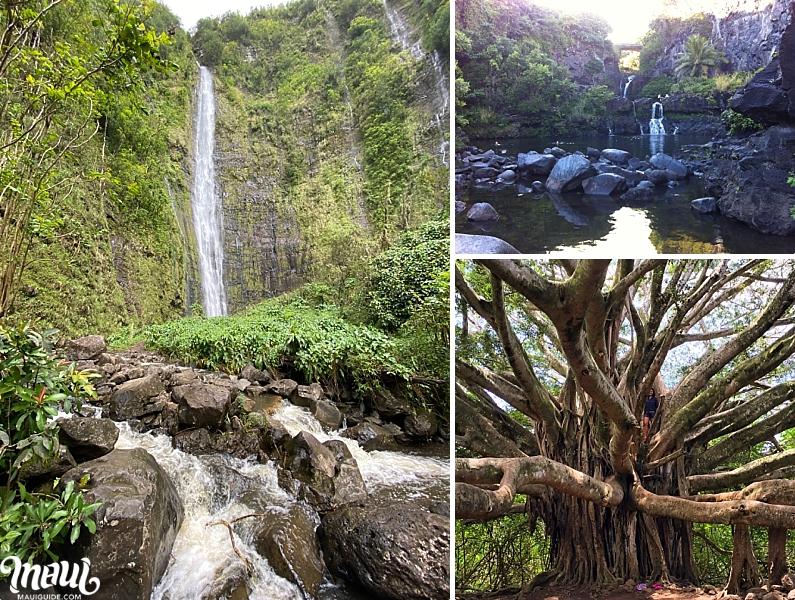 ---
The Haleakala Landscape
East Maui is made of one volcano, Haleakala. Like all others in Hawaii, this is a shield volcano built from the ocean floor by countless lava flows. The summit once towered high above this elevation. But during a dormant period, wind, water, and ice eroded Haleakala, creating large valleys.
Two of these valleys cut into opposite sides of Haleakala and merged at the top. Later, lava flows partially filled the valley, forming the large basin below commonly known as Haleakala "Crater." However, a true crater is formed by volcanic activity, not erosion.
Puʻu, the hills within the valley, are cinder cones; each cone is the site of an eruption and each has its own crater. Even 600-foot Pu'u o Maui, the largest of these cinder cones, seems dwarfed within this 3,000-foot deep basin that stretches 7 1/2 miles (12 km) long and 2 1/2 miles (4 km) wide.
---
Life on Haleakala
Life Among the Lava
The seemingly barren landscape of Haleakala hosts many rare forms of life. To survive in this aeolian (windblown) environment, some insects have developed unique features such as an inability to fly or an unusual diet. Most of these insects eat the organic material carried up the mountain by the wind.
The harsh aeolian environment is fragile. Its uniquely adapted native insects are threatened by alien species: rodents, Argentine ants, yellow jacket wasps, and even human beings. When people wander off trails, they may unintentionally crush spiders, beetles, and flightless moths that are found only on this mountaintop.
Found Nowhere Else
Many plants and animals at Haleakala are endemic, which means they're found nowhere else in the world. Located near the center of the North Pacific Ocean, the Hawaiian Islands are more than 2,000 miles (3,200 km) from North America, the nearest continent. This isolation, combined with a wide variety of habitats, has resulted in a high incidence of endemic species.
Plants, birds, and insects came to these islands by wind, waves, or wings. Scientists estimate that, before humans arrived, one new species came to Hawaii about once every 10,000 years. Today, people bring about 20 new alien species to the islands each year. This onslaught of human-introduced species severely affects native plants and animals. Extinction is all too common in present-day Hawai'i.
ʻAhinahina, the silversword, once near extinction due to human vandalism and browsing by goats and cattle, began to recover when Haleakala National Park provided strict protection. The introduction of the Argentine Ant locally threatens the insects that pollinate the ʻahinahina.
ʻUaʻu – Hawaiian Dark-Rumped Petral
Within the cliffs and cinder cones, ʻuaʻu dig nesting burrows with their feet and wings. Each spring, a pair of birds may return to nest in the same high mountain burrow. Named for their haunting call, ʻuaʻu are rarely seen but can be heard at night returning to Haleakala after feeding at sea.
Ua'u, once abundant throughout the Hawaiian Islands, are now endangered. Fewer than 2,000 of these seabirds remain, almost all nesting in Haleakala National Park. ʻUaʻu usually dig their burrows about 3 to 6 feet deep and as long as 15 feet. The 'ua'u are vulnerable to mongooses, feral cats, and other introduced predators.
The female ʻuaʻu lays only one large egg each year, then feeds its chick regurgitated stomach oil, fish, and squid. Habitat destruction, alien predators, and introduced diseases are threatening this bird's survival.
---
Magnetic Peak
Magnetic Peak, a cinder cone that resembles a high mound of volcanic rock, is named for the mild magnetic field caused by its iron-rich cinders. The field is strong enough to deflect a compass needle. Oxidation of these cinders also gives Magnetic Peak its rusty color.
Cinder cones like Magnetitic Peak form during lava fountaining eruptions. Gas Pressure drives tephra, or airborne material, high into the air. Cooled during flight, solid tephra pieces accumulate around the vent, forming a cone. Cinders, tephra pieces smaller than a fist, contain many gas bubbles. Bombs, the larger chunks of tephra, may weigh several hundred pounds or more.
Puʻu ʻUlaʻula is a cinder cone like Magnetic Peak. At 10,023 feet (3,055m), Puʻu ʻUlaʻula is the highest point on Maui. From sea level, you make the ascent in 38 miles (61 km), which is one of the steepest climbs of any road in the world. When driving back down, use low gear to save your breaks.
While on the summit, beware of the effects of thin air. With less oxygen, you might develop "altitude sickness" causing nausea, fatigue, dizziness, and headaches. If you feel any of these symptoms, rest often or descend to a lower elevation. Pregnant women should refrain from making the trip to the summit. The thin air can cause a shortage of air for your unborn child. This is especially dangerous further along with pregnancy. We've had pregnant guests come to the peak in their early stages (1st and beginning of 2nd trimester) without problems. But they didn't stay for long, and they didn't exert themselves. We still recommend that pregnant women wait until after birth to visit the crater.
---
Hawaiʻi – The Big Island
From the summit at Haleakala, you can often see the Big Island of Hawaii. The island of Hawai'i, the largest of the Hawaiian Islands, is often visible in the distance. Its two dominant volcanic peaks (Mauna Kea 13,796 ft and Mauna Loa 13,667 ft) usually tower above the clouds. These peaks are about 80 and 100 miles southeast of Haleakala.
Often called "The Big Island", Hawaii is still growing. Long-lived eruptions on the east rift zone of Kilauea Volcano have added hundreds of acres of land to the shores of Hawai'i in recent decades. With more than 4,000 square miles (10,400 sq km), Hawaii is almost twice the size of all the other Hawaiian Islands combined. New land is created as a lava flow meets the sea on the southeast flank of Kilauea Volcano in Hawaii Volcanoes National Park. The last eruption to reach the sea here on Maui occurred about 1790.
We'd like to thank Haleakala National Park for all of the great information. We'd also like to thank Natalie Brown for her photo contributions.
---
---
Haleakala National Park Map
---