Pukalani, located on the slopes of Haleakala, is not typically a tourist destination. However, in Upcountry's largest town, you can find fantastic local eats, an 18-hole golf course, bustling farmers' markets, and spacious public parks. Located at around 1,300 feet, Pukalani is the gateway to Upcountry. Thanks to the town's elevation, Pukalani boasts bicoastal views and mild temperatures.
The fires devasted Lahaina and parts of Kula.  As of this posting (September 19th, 2023), we hear water quality is better in Kula now, but it's still toxic in Lahaina.  We ran our own Pukalani water test recently.  Check out the results.
Pukalani in Hawaiian means "heavenly gate" or "window to heaven," and most residents can attest that during the rainy season, there is often a "puka" or hole in the clouds above this Upcountry town.
See Pukalani Map
Pukalani Dining
There is a growing list of dining establishments opening their doors in Pukalani. This includes long-standing local favorites like Serpico's (breakfast & Italian) and Kojima's Sushi. You'll also find local-style plate lunches at Kalei's Lunchbox- a popular food truck that recently opened a storefront in the Pukalani Terrace Center.
Up the road, you'll find a multitude of dining options at the Kulamalu Town Center. Here, a cluster of food trucks serves various cuisines- plate lunches, burgers, fresh fish, Thai food, acai bowls, you name it.
Kulamalu Town Center is also the home of Restaurant Marlow, one of Maui's newest and best pizza joints. Marlow is owned and operated by award-winning Maui chef Jeff Scheer and his wife, Kaili. Inspired by Italian flavors, farming, and local ingredients, the duo opened Marlow in 2021, and their menu boasts a slew of ingredients sourced from nearby farms. However, pizza is the name of the game at Marlow, and their sourdough Neapolitan-style pies have been generating a buzz since the day Jeff and Kaili opened the doors.
Next door, you'll find Upcountry's only brewery, Mahalo Aleworks. Mahalo Aleworks opened around the same time as Marlow, and the two have been operating in harmony ever since. Mahalo Alework's locally brewed beers are on tap at Marlow, and guests can also order pizza from Marlow while at the brewery.
---
Pukalani Points of Interest
Unlike the nearby towns of Makawao and Paia, Pukalani is void of a central shopping strip. Instead, this upcountry town consists mostly of neighborhoods, schools, parks, shopping centers with grocery stores, banks, laundromats, and restaurants. However, there are still several points of interest in the Pukalani area.
Pukalani Park
Pukalani Park is a 20-acre public park complete with a community center, public pool, sports fields, and a skatepark. Some footpaths run throughout the park, and with great views of Maʻalaea Bay and the West Maui Mountains, it's an excellent place to watch the sunset.
Upcountry Farmers Market
Every Saturday morning, the Upcountry Farmers Market sets up shop in the Kulamalu Town Center. Here you'll find dozens of local farmers, artisans, bakers, florists, chefs, and so much more selling their goods. The Upcountry Farmers Market is a local go-to for fresh fish, meat, and locally grown organic produce. The market runs from 7am to 11am, and it's best to get there early!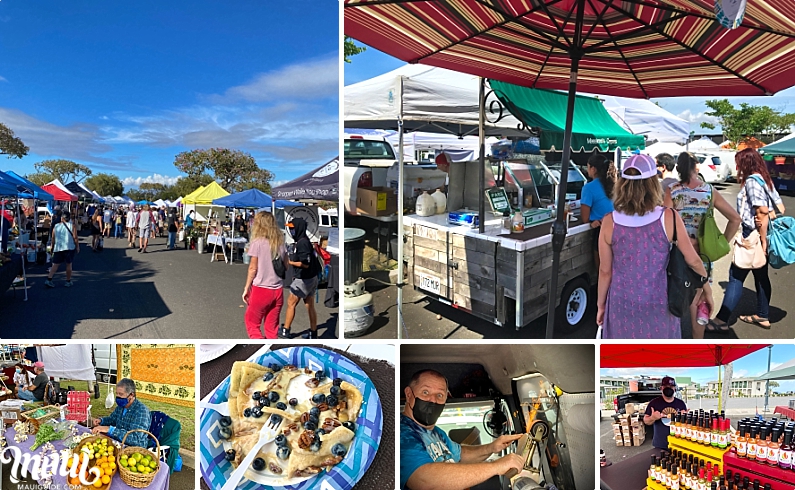 Pukalani Country Club and Golf Course
The Pukalani Country Club is home to an 18-hole golf course, pro shop, and clubhouse restaurant. Dotted with cook pines, the golf course spans 160 acres and is 6,962 yards long. This is the only golf course in Upcountry Maui, and there are specials on offer for both visitors and residents alike.
Pukalani Superette
Pukalani Superette is an Upcountry icon and has been since its opening in 1955. This green building sits on the edge of Pukalani proper, and locals affectionately call the store Puk Sup (Pook Soop). The Superette sells everything from fresh flowers to baked goods, as well as made-in Maui products. However, the store is best known for its grab-and-go hot food bar, which sells some of Upcountry's best local favorites like chili chicken, chow fun, fried rice, and lau lau.
Maui Alpaca
Maui Alpaca is an 8-acre alpaca farm located near Kulamalu Town Center. This unique farm hosts picnics, yoga sessions, farm visits, alpaca fleece spinning classes and demos, and much more. Maui Alpaca is a great place to visit with kids and hang out with the friendly alpacas and angora bunnies.
---
---
Pukalani Map
---