Hāna, Maui
Accessed primarily by the Road to Hana, Hana Highway (36 and 360), Hana Town is the most isolated town in the Hawaiian Islands. With a tiny population of fewer than 1,000 people, Hana is strongly "Hawaiian" from less exposure to tourism and outside culture than any other area in Hawaii. The actual town of Hana is very small with few shops, including the Hasegawa General Store.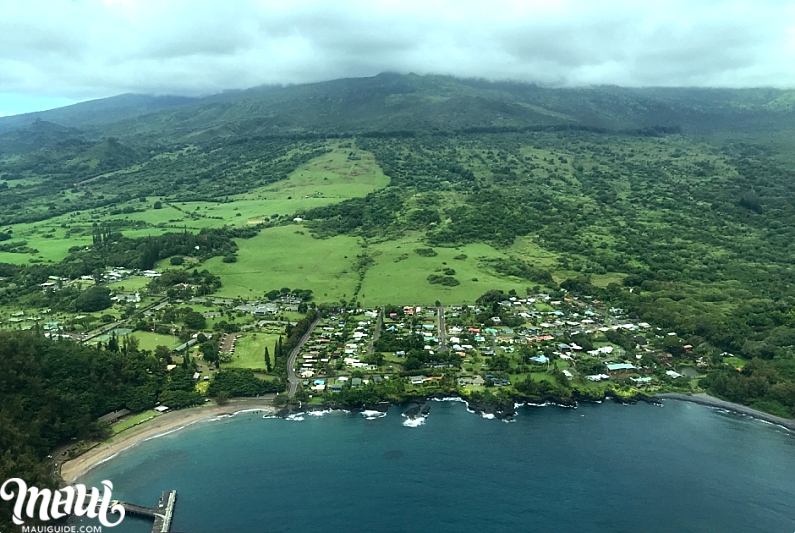 The East side of Maui is generally known as Hana. This area is home to ʻOheʻo Gulch (Seven Sacred Pools), the Bailey Bridge (built by the Army Corps of Engineers), the Hana Maui Resort (which is one of the nicest resorts in the State), and huge stretches of lush coastline, waterfalls, and vast rainforest. As winds from the Northeast sweep over the ocean, it pulls with it dense humidity. As this moisture rolls up Haleakala, it cools and precipitates on the Hana side making Hana one of the wettest places in the world.
See Hana Map About the Road to Hana
The drive to Hana is known as one of the most beautiful drives in the world. The Road to Hana runs approximately 52 miles from the beach town of Paia, over 59 bridges, and through 620 curves. Though the drive isn't for those with weak stomachs, it is generally safer than many people report. Much of the negative perception of the road to Hana as being dangerous comes from when the road was poorly paved 20 years ago. That doesn't mean it isn't dangerous due to tourists not paying attention or driving too quickly.

Take Caution
Some of the most dangerous places on the East side are waterfalls and streams during heavy rains. Flash floods claim lives every year arriving quickly with no warning. Lacking any previous indications, flash floods run swiftly down the mountainside due to rains further upstream. You can be sitting at a quiet stream in full sun, while the water builds upstream from unapparent heavy rains.
Before entering any stream or waterfall area, make sure to check with officials and see that water isn't gathering further upstream. Seven Sacred Pools at ʻOheʻo Gulch is a great place to visit because Haleakala National Park officials are well aware of the dangers and will close off the area to swimming if there's any potential flooding.
We highly recommend taking a tour to Hana in order to have a trusted, knowledgeable guide show you the best spots without danger. Valley Isle Excursions offer excellent tours to Hana and beyond. They check every day with local officials about water level safety so that if you're interested in swimming, you can rest easy.
The town of Hana has more to offer than most would think. There are some great spots to eat (tucked into corners), a few spectacular beaches, excellent snorkeling, and much more. We love staying in Hana Town for a few days to really soak up the culture and enjoy the beauty around it.
Most of the Hana photos were taken by Natalie Brown for Hawaii Photography.
---
Hoaloha Jeep Adventures
Hoaloha Jeep Adventures offers fully custom private tours to Hana in one of their 4×4 convertible Jeeps. Despite not being behind the wheel, with their Maui Jeep tours, the freedom to explore where you want to explore is completely yours. As weather conditions in East Maui can quickly change and can make for some treacherous conditions, Hoaloha only employs drivers with a strong knowledge of the area. Not only will they make your safety their priority, but they will also give you a more in-depth history, geology, and cultural lesson than any East Maui guidebook or app possibly could. Not to mention, their 4×4 Jeeps can access places standard rental cars can't, or where rental companies do not permit their cars to go.
---
---
Hana Maui Map
---