Wailuku, Maui
Old Wailuku town, nestled up against the lush leeward side of the West Maui Mountains, rich with ancient Hawaiian history and now bustling away with a revitalization project, this charming "downtown" holds the county seat and much much more.
Historical buildings and theaters mingle with hip boutiques, authentic Hawaiian artifacts, antiques, local coffee shops, bistros, and mom-and-pop shops that have been serving up unique finds and iconic treats for generations. Spending the day on Market Street in Wailuku, with its wooden storefronts, is a truly local Maui experience, where you get a slice of cosmopolitan life with a side order of spam musubi.
See Wailuku Map
About Wailuku
Located just 10 minutes from the airport, visitors to Wailuku can discover over 20 of the area's fascinating historical and cultural attractions by taking the "Rediscover Wailuku" tour. Highlights not to be missed are the Bailey House Museum, taking in a show at the historic Iao Theatre, visiting the Kaʻahumanu Church (over 180 years old!), and the ancient Pihana Kalani Heiau.
ʻIao Valley
Just beyond the bustle of Main and Market Streets is the area's most notable feature, the iconic ʻIao Valley, home to the 2,250-foot tall Iao Needle. One of the wettest places on earth, the dramatic mountain crevice is sometimes graced with thousand-foot-tall waterfalls in the distance and misty clouds that create a magical aura.
The area was once a sacred burial ground for Hawaiian Aliʻi (royalty) and is the site of one of the most notorious battles in Hawaiian history, the battle of Kepaniwai. It was here, in 1790, that King Kamehameha I, in an effort to unite the Hawaiian islands, conquered the army of Maui. The ʻIao stream was said to have run red for days.
Visitors now flock to the park to examine the recreated taro farm and homestead. Or, like Georgia O'Keeffe, to find inspiration in the natural beauty. The area is also excellent for hiking, picnicking at Kepaniwai Park, enjoying the exotic tropical plants, and swimming in the clear streams and waterfalls. Please be sure to bring proper footwear, water, your camera, and plenty of respect and aloha!
---
Wailuku History
Wailuku is unique in that it encapsulates the profound changes that Maui endured over the years. Pre-European contact saw a verdant valley and a thriving village. King Piilani made this area his political seat and King Kahekili also resided in Wailuku.
Like much of Hawaii, the mid-1800s saw the arrival of Christian missionaries, whose beliefs would change the customs and landscape forever. Soon after, the Wailuku Sugar Company and other industries began moving in and constructed an enormous irrigation system that collects water from Iao, Waiheʻe, Waiehu, and Waikapu streams. It is now co-owned and operated by HC&S and Wailuku Agribusiness. The water is now used primarily by HC&S to improve yields and by local farmers and residents.
With the plantation era in full swing, migrant workers from China, Japan, Korea, the Philippines, Portugal, and elsewhere across the globe arrived by the thousands to work the fields. Maui became a melting pot of cultures, cuisines, and communication. This gave rise to the popular plate lunch, which is a mix of cuisines devised by plantation workers sharing lunches and flavors with one another.
Wailuku's downtown developed as an eclectic area to suit the needs of the influx of different cultures. On the southern end of town, between Church and Market Streets, original plantation-style homes from the era still stand, smushed together on narrow lanes with rare flowers and shrubs that were brought over a hundred years ago.
In 1905, Wailuku was designated the county seat of Maui and is now the home of government offices. A wave of prosperity ushered into the town until the gradual decline of the plantation era, which began in the 1960s. During this time, Maui became more accessible and desirable with the advent of television and movies, ushering in her new economic engine – tourism. Flocking to the sunny shores of South and West Maui, tourists eventually enticed many businesses away from Wailuku's downtown streets.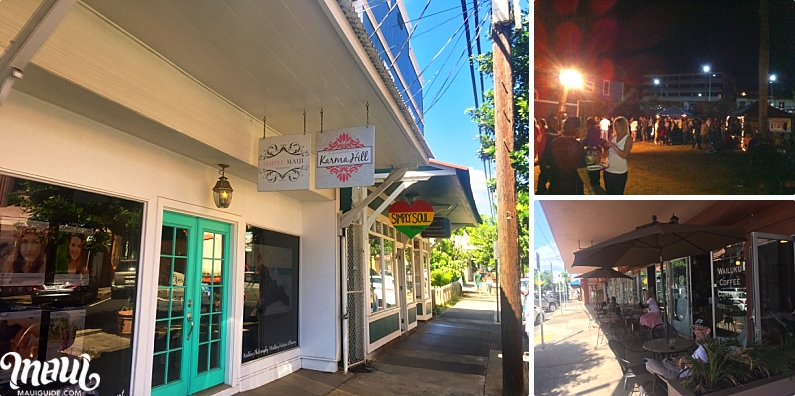 Then in 2005, the county organized the "Revitalize Wailuku" program to bring commerce and life back to its beloved Wailuku town. Funky shops and community events have begun breathing life back into the area. Wailuku First Fridays have become a favorite for residents and visitors alike, as the streets are blocked off to make way for thousands of people, musicians, a beer garden, and food and craft vendors. In Wailuku, there are a variety of activities available devoted to local cultures, communities, and the rich Hawaiian history.
Be sure to explore Old Wailuku Town- "Where the past is always present".
---
Wailuku Areas of Interest
'Iao Valley State Park
Iconic Maui landmark, not to be missed!
Directions: Take Highway 32 (Kaahumanu Road) west. This road turns into Highway 320 which leads directly into 'Iao Valley State Park. Restrooms are available.
Kepaniwai Heritage Park and Gardens
The park celebrates the migrant worker and the multiple cultures that contributed to the growth and prosperity of Maui. Iao stream flows behind the park and is a great place to soak your feet. Picnic tables, BBQ Grills, and restrooms are available. Park is located inside ʻIao Valley State Park.
Mystery Maui
While Wailuku is full of natural beauty, historical charm, and boutique shops and cafes, we are proud to welcome Mystery Maui to the list of family-friendly local activities in the heart of Maui. Though escape rooms have become wildly popular on the mainland, we're stoked to see the first of its kind on Maui, designed to keep you entertained and test your crime-solving abilities in an ultra thrilling hour-long experience.
Armed with only a few clues to solve one of two themed mysteries – a missing chef from The Ramen Shop or a secret house show with pop singer Stella Superstar – your private group will work together to unlock the mystery surrounding each scenario in 60 minutes or less. This interactive experience is amazingly fun, and ideal for groups of friends, families, honeymooners, coworkers, and even bachelor or bachelorette parties. Fill out a quick waiver, receive a brief orientation from your game marshal, and go for it! Parties must include a minimum of two people and a maximum of six, and you may reserve your mystery room online or by phone at (808) 249-2062.
Bailey House Museum
Built in 1833 by one of Maui's most prominent families, it was the home of missionaries. Explore the museum to find Hawaiian artifacts, quilts, furnishings, and art pieces from the nineteenth century. Gift Store located on-site. Located at 2375 A Main St, Wailuku.
Halekiʻi Heiau and the Pihanakalani Heiau
Heiau are ancient Hawaiian structures used for ceremonial purposes. Halekiʻi or "house of images" got its name from the many kiʻi (images) found on the terraces that guarded the structure. Pihana is reported to have been a luakini heiau, where human sacrifices took place, it also served as the major heiau for Wailuku. Pihanakalani translates to "gathering place of the aliʻi".
Directions: Take Waiehu Beach Road (Hwy. 340), Turn left onto Kuhio Place, then left onto Hea Place where you will see an entrance sign. The heiau are a 5-minute drive from downtown Wailuku.
Ka'ahumanu Church
This beautiful church and cemetery offer great views of the valley below. The church was established in 1832 and named in honor of Queen Ka'ahumanu. She was one of the first Aliʻi (royals) to convert to Christianity and later broke down the kapu system. The church was built on the site of a heiau and was originally part of the royal compound of High Chief Kahekili. Located at 103 S. High St.
Waiehu Municipal Golf Course
An affordable course for Maui standards and a favorite for local golfers. The course offers great ocean views. Located at 200 Halewaiu Rd.
Waiehu Beach Park
Best for surfing, fishing, and kiteboarding (advanced). The water can be rough and windy at times. Located at the end of Lower Waiehu Beach Park Road.
Historic Iao Theatre
Built in 1927, this curious theatre hosted Bing Crosby and Bob Hope during WWII and saw the resignation of the theatre manager in 1973 after he showed the x-rated Deep Throat. This bygone theatre, done in Spanish Mission style, is rich with history and a favorite for locals. Located at 68 N Market St.
Hiking in Wailuku
Waiheʻe Ridge Trail
Wailuku Cross Trail Hike
Wailuku Lodging and Accommodations
There are not many options in Wailuku, but only a few bed and breakfast and hostels. Here are a few well-known establishments:
Iao Valley Inn
The Old Wailuku Inn
The Wailuku Guest House
The Banana Bungalow
North Shore Hostel
Wailuku Transportation and Parking
Market Street is a one-way street heading North, with FREE parking along either side. Market Street hosts the majority of shopping.
The best FREE public parking lot is located on W Vineyard and Market Streets.
Maui Public bus transit system line runs to Wailuku. The fare is $2.00 per boarding. Daily and monthly passes are also available.
Don't park illegally (even questionably.) We've gotten tickets there for the smallest things.
Maui Tropical Plantation
Only 5 minutes away, visit a place of rich history and beautiful surroundings with views up into the Waikapu Valley as well as Haleakala and as far as Haiku. The Maui Tropical Plantation can keep you occupied all day with great shopping, coffee roasting, organic farms, an award-winning restaurant, ziplining, a duck pond, and spectacular views in all directions.
---
---
Wailuku Map
---