Maui Rainy Day Activities
We've listed 10 things to do & 4 things NOT to do when it rains.
We've rarely had to ponder this because we live in South Maui where it barely ever rains. Whenever it DOES rain, we usually just work. But recently, we had some friends staying with us from the mainland during a serious downpour. They were really not happy about the lack of options when it rains here in Maui. It's a good idea to keep an eye on the Maui weather report and be prepared! Here are our favorite Maui rainy day activities.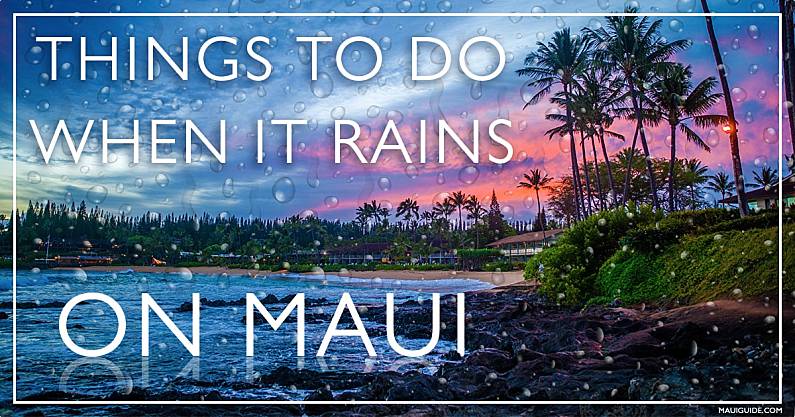 We did some brain"storming" and came up with this list:
#1 Trampoline Park
Visiting Ultimate Air Maui is a no-brainer for those with kids especially. There's plenty of room to jump, shoot hoops, play dodgeball, balance over foam pits, sit down and have snacks, or just relax in a massage chair. We love this spot and frequent it at least a few times per month, rain or shine.
---
#2 Dine
It's always a safe bet to get some grinds. Many restaurants can be found on the water and/or with great views that are sheltered from the rain. Some spots are better than others in the rain.  We love the Mill House Restaurant (now Cafe OʻLei) at the Maui Tropical Plantation because you have a view of dramatic clouds weaving through the Waikapu Valley while you sit and eat (photos below).  Up north, you'll find Mama's Fish House on the oceanfront. Down south, you'll find Five Palms in Kihei and Ferraro's in Wailea. And on the West Side you'll find Mala Restaurant as well as many other restaurants along the water in Lahaina.  See the latest posts about dining on Maui.
---
#3 Learn To Make Glass Art
If you want a really cool Maui souvenir, consider a glassblowing lesson from professional glass artists at Moana Glass in Lahaina. Here you'll be guided through each step, one-on-one, to build a large glass sculpture. This has often been described by participants as the best thing they've done on their vacation.
---
#4 Escape Room
For one of the best ways to duck the rain on Maui, we highly recommend heading to Wailuku's Mystery Maui escape room for a thrill that will not only salvage the best of the less-than-ideal weather but leave you wanting to repeat the process again and again. Ideal for groups of two to six people, you'll team up to solve one of two intriguing mysteries – the missing chef at The Ramen Shop or a top-secret performance by pop singer Stella Superstar – and work as a team to decode the clues, Sherlock-style, in less than an hour. Even when it's not raining that hard, this is an excellent way to beat the heat and humidity and enjoy your time on Maui in a whole new way.
---
---
#5 Shopping
Lahaina has some awnings along Front Street, and the Shops at Wailea are all covered. Paia Town has some cover too.  Get some gifts and souvenirs for your friends and family back home. This is the best time to go shopping in Maui.
---
#6 Movies
Yeah, you've got the same movies back home, but sometimes it's nice to have an excuse to go see the latest ones.  Many of the theaters on Maui have been renovated (large reclining seats with cup holders, some with tables, and reserved seating).
---
---
#7 Aquarium
The Maui Ocean Center in Maalaea Harbor has a huge shark tank with a glass tunnel through it. There are also many other smaller tanks with all types of sea life that can only be found in Hawaiian waters. Almost all parts of the exhibits are under cover. Some attractions are outdoors, and you'll have to go outside to get from certain exhibits to others, but it's not a big deal.
---
#8 Find A Pool With A Hot Tub
The pools feel the same whether it's raining or not. Take a swim and enjoy the hot tub afterward. When it rains, people tend to stay away from the pool so you may have it all to yourself. Just make sure it's not stormy with thunder/lightning!
---
#9 Explore Resort Amenities
Most resorts have plenty of leisure options for when it rains. Take advantage of your expensive accommodations by using what you're paying for. (example: game room, bar, spa, massage.)
---
#10 Stay In Bed
If it's your honeymoon or you're getting married, it's your responsibility to spend a portion of your stay in bed. If it's raining, you have even more reason to.
---
EXTRA: Walk In The Rain
When do you ever get a chance to enjoy the rain back home? It's almost undoubtedly warmer in Hawaii than where you're from, so take advantage! Beaches will be empty, and you can enjoy the rain without freezing. (Caution: in the winter, you may find that even in Hawaii rain can make you feel really cold. Make sure you don't stay out too long.)
---
Things NOT To Do On A Maui Rainy Day
#1. Hiking
When there are heavy rains, streams turn into rivers and dry creek beds become torrential floods. Flash floods are dangerous because it's very difficult to predict them. The weather might be sunny and dry at the bottom, but at the top may be raining heavily. This makes for a sudden volume of water being pushed your way. Be careful!!
---
#2. Go Surfing or Snorkeling
The ocean does some strange things when it rains. The surface can get rough, the water clarity will diminish, and all the little fish will come towards shore to feed on things being washed in from the land. The problem with this last part is that little fish attract BIG fish. Sharks are much more likely to confuse you for lunch when it's raining.  Save your Maui snorkeling trip for a perfect day.
---
#3. Luau
The best Maui luaus are held outdoors, so if it's raining, you'll likely be canceled. Watching anything for a long period of time in a down-pour can be a downer.
---
#4. Drive Excessively
Driving in the rain is dangerous anywhere. On Maui, it can be particularly dangerous because many of the roads are 1 laned, thin, and winding. The Road to Hana is a good example of this. If rain is coming down excessively, you'll find that many roads will be flooded and impassable. Besides road conditions, there are a lot of idiots that don't know how to drive in the rain too. Staying home will keep you from sharing the road with these schmucks.

We hope this was helpful. Let us know if there's anything we may have missed!
Many of these photos were taken by Hawaii Photography. All Rights Reserved.
---
---