Kids On Maui
Below are a few things you can do with your kids when having fun visiting Maui.
#1 Snorkeling
There are plenty of calm areas to snorkel in Maui with your kids. It's a fun activity that most ages can enjoy from the shallows of the sandy shore. For older kids, you can take them to some great spots along the reef. Turtles pop up all over the place, so there's a good chance your keiki will snorkel next to one. Something that will MAKE their vacation!
#2 Luau Shows
Going to a Maui luau is a no-brainer if you've got kids. Watch a great sunset, listen to beautiful Hawaiian music, share in the legend and history of the Hawaiian culture, eat delicious tropical food, and watch hula and fire dancing all while sipping a cold cocktail? Sign us up!
The kids love all the excitement and often there are traditional Hawaiian crafts being demonstrated and shared, which add to the keiki entrancement. Find the best-priced Maui luau tickets.
#3 Ziplining
For kids 5 years old and up, ziplining is the perfect activity to keep them excited about Maui! Located at Maui Tropical Plantation in central Maui, Maui Zipline Company offers a 5-line zip tour, including a scenic walk to a tropical observation deck, expert ziplining staff, top-notch safety equipment, and great views of the surrounding plantation grounds, tropical gardens, and sparkling duck pond.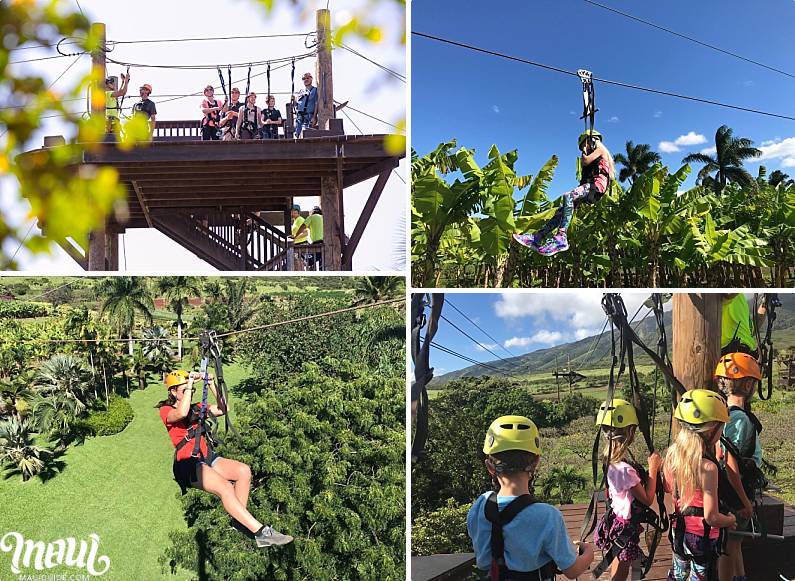 Kids will love the exciting ziplines, and the location is perfect for those staying in popular areas of south, west, and central Maui.
#4 Trampoline Park
With more than enough room to jump around, play dodgeball and basketball, and dive into foam pits, kids absolutely love Maui's newest indoor activity center, Ultimate Air Trampoline Park, located conveniently in Wailuku Town. Guests of all ages and sizes are invited to participate, and kids are separated into specific size-based zones to ensure ultimate safety and fun.
#5 Mystery Maui
One of the newest entertainment offerings in central Maui, head to Wailuku to experience a Mystery Maui escape room with the whole family. Kids, who must be accompanied by an adult if under the age of 13, love helping to decode clues and solve the mystery, as well as The Ramen Shop and Stella Superstar escape room themes, and it's the perfect way to spend an hour having a blast with every member of the family.
The owners are friendly and passionate about what they do, and it's a perfect activity for those days when you need a break from the beach or wants to escape the wind and rain. Call (808) 249-2062 to learn more or reserve your mystery room.
#6 Beach Portraits
Though it might not be the first thing your kids want to do, it's something you owe your family. Having great family portraits is important at each stage of your kid's growth, but having some taken at a gorgeous beach location at sunset just makes it that much better. You can also take photos during mid-day to get those green ocean colors or take a trip to a waterfall or bamboo forest!
#7 Maui Alpaca Farm
Maui might not have a zoo, but the island is home to an array of unique farms. At the top of the heap? Maui Alpaca. This quirky Upcountry farm is home to a herd of alpacas and a squad of adorable angora bunnies. The farm offers daily tours where guests can feed the alpacas, cozy up with the bunnies, and take some selfies with each. Kids will love the alpacas' silly antics and cuddling the soft bunnies, and animal-adoring parents will enjoy the informative tour. Plus, tours run just one hour, leaving no time for kids to get antsy.
#8 Watch Glassblowing
Visiting Makawao Town is a must when exploring Maui. As you walk around, you'll see a few restaurants, a tiny town museum, and plenty of boutiques. At the Makawao Courtyard, Stop by Hot Island Glass to watch professional glassblowing. The gallery is beautiful, with many different forms of art. When taking your little ones there, make sure they don't touch anything. There are stools to sit and watch them work the molten glass (behind glass) which is safe and a ton of fun. Most kids find it a highlight of their Maui vacation.
#9 Whale Watching
During our winter season, whale watching is one of the most exciting things for children. Seeing a massive humpback launch out of the water next to the boat is impressive for anyone, but the kids get a real kick out of it as well as learn about nature. Each boat has a naturalist on board that can share fascinating facts about whales while you follow them around. Some vessels put microphones in the water so you can hear them sing!
#10 Maui Ocean Center
We visit the Maui Ocean Center with our kids almost weekly. It's easy, fun, and gives the kids a real rush. It's a great activity to do when the weather isn't favorable too. We like to go during the feeding time at the shark tank. Scuba Divers will dive into the tank and feed manta rays and sharks while talking to you from their water microphones. It's a lot of fun and educational too!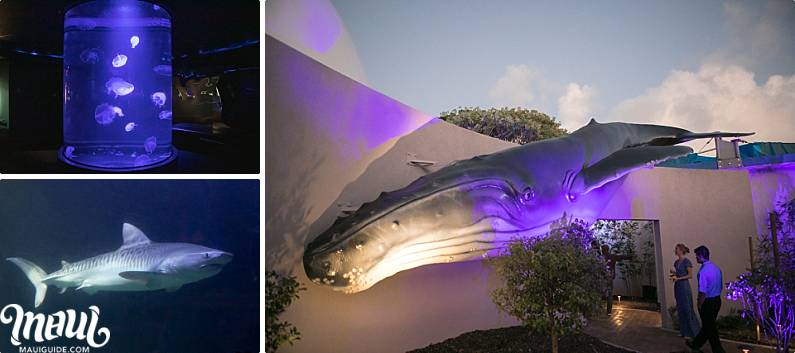 ---
BONUS: MORE MAUI ACTIVITIES FOR KIDS!
#11 Submarine
Atlantis submarine is something that most kids get a real kick out of. At first thought, it sounds kind of cheesy and not fun. BUT, this is not Disneyland. Our submarines will take you to well below 100 feet from the surface in complete comfort. You'll see schools of fish, tropical reefs, and even a REAL sunken ship. This is something that you won't forget and neither will your little ones.
#12 Hike to a Waterfall
We've visited waterfalls with kids from 1 year old to 18 years old. They all love it! There are plenty of falls that aren't far away from your resort/hotel. Twin Falls is the closest location to get to waterfalls unless you're staying in Hana Town.
You can park your car and be in the cold waters of a waterfall in less than 10 minutes. Twin Falls is only 15 minutes from Paia Town (so only about 45 minutes to an hour from Wailea.)
#13 Pool & Beach Time
Most people would make this #1, but we figure you already know it. Some resorts are built for keiki (kids.) The Grand Wailea has a pretty amazing pool with many slides and even a water elevator. Spending time at one of Maui's best beaches is almost always a good idea, but remember lots of sunblock, shade, and drinking water.
Avoid peak sun when you can too. We prefer to take our kids to the beach very early in the morning or a few hours before sunset. Morning is best for snorkeling to avoid the wind. Reserve your snorkel gear ahead of time and save time!
#14 ʻIao Valley
As much as the Road to Hana is impressive (and often life-changing), some kids can't handle the long ride. So, as a wonderful alternative, ʻIao Valley is a conveniently located spot to take your kids. If you've ever wanted to quickly get to Jurassic Park, this is your best chance.
ʻIao Valley is one of the wettest places on Earth, which makes for beautiful sheer cliffs. The area is home to some powerful Hawaiian history. Some of the fiercest and bloodiest battles happened here. (Make sure it's open. Heavy rains can close the area.)
#15 Duck Pond & Plantation Tour
One of our favorite things to do is visit the Maui Tropical Plantation. The kids absolutely love feeding the ducks at the pond, and we quite like having a cocktail at the Mill House while they do it. They also run a plantation tram tour throughout the day where you and your keiki can learn about the various flora grown on the property.
---
---