Maui Snorkeling Maps
Along with the Maui snorkeling maps, we've listed helpful information on the best snorkeling spots in Maui. You'll find 3 snorkel/dive maps covering West Maui, South Maui, and Molokini Crater.
North and East Maui have some good snorkeling locations as well, though, with the near-constant swell activity, these areas usually have low visibility and can be dangerous with currents and waves. Check out some popular snorkel trips in Maui. Also, learn about snuba diving, the next step to scuba!
IMPORTANT: Remember safety should always be your first priority. Always snorkel with a partner and let someone on land know where you are.
---
---
Maui Snorkel Gear Rentals
Instead of bringing your snorkeling gear all the way to Hawaii, we highly recommend renting a set from Boss Frog's once you arrive on Maui. Their Deluxe Snorkel Rental can be reserved online for free and beats all competitor pricing in the area. Equipment includes a mask, fins, snorkel, and a mesh carrying bag, and can be rented by the day or week.
Boss Frog's offers excellent beach guides and vital information for each of the best Maui snorkeling spots, including good-to-know info about parking, facilities, directions, lifeguards, surrounding marine life, and the best places to get in and out of each snorkeling site.
To reserve snorkeling gear for your upcoming trip, please call Boss Frog's at 808-661-3333.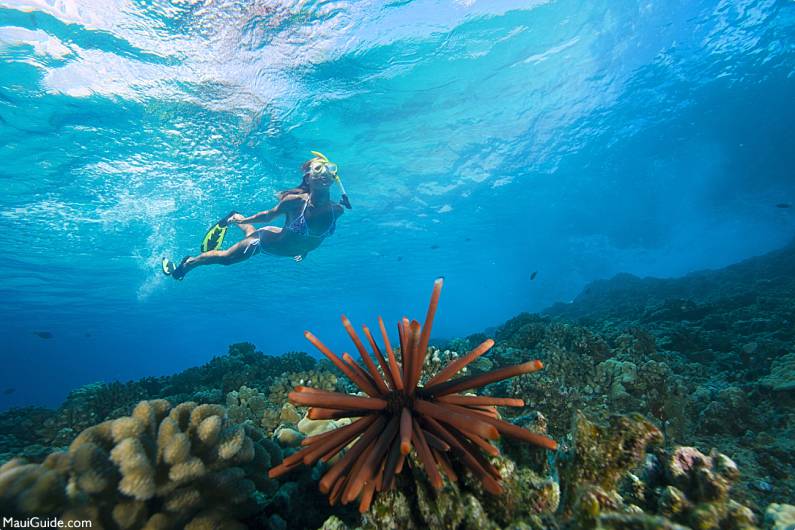 ---
Best Boat Trips
The best snorkel boat trips to take on Maui go to Molokini Crater, the close by neighboring islands of Lanaʻi and Molokaʻi, and Turtle Town.
Snorkeling Molokini Crater is the most popular destination for Maui snorkel trips. This crescent-shaped tropical fish sanctuary, just off the South shore of Maui, has good snorkeling because it almost always has clear visibility. The fish are abundant and not afraid of snorkelers. The backside of Molokini Crater is home to some of the best scuba diving in the world. It's only for experienced divers and drops down hundreds of feet with all kinds of sharks above and below you.
Coral Gardens is often traveled to, especially if the waters are rough. This sheltered West Maui snorkeling spot is protected from the wind and is famous for its turtle sightings. Coral Gardens is often referred to as Turtle Town Maui (see below).
Lanai has incredible snorkeling and scuba diving. The boat trip is shorter than you'd think to these incredible islands (just 45 minutes from Lahaina Harbor). Ask to go to the cathedrals if you plan on scuba diving. If you take a trip to Lanai, you'll most likely get your snorkeling to yourself.
For more Maui boat trips, we suggest taking the Kai Kanani, Island Star, or Trilogy in South Maui.
---
Turtle Town
Where is Turtle Town, anyway?
This is a good question. Turtle Town is a name used to describe the densest population of turtles at a given time. Coral Gardens in west Maui is often considered the best place to find sea turtles. Another spot is the area in front of the Makena Beach & Golf Resort (Maui Prince.) Almost anywhere you go around Maui, you're bound to run into a large green sea turtle, whether you want to or not. They are protected and everywhere. There are, however, often large concentrations of green sea turtles that cluster together. Turtle Town describes where your captain most recently saw the largest amount of them in one area (often changes).
If you see them, stay at least 10 feet away, and DO NOT TRY AND RIDE THEM! This is highly illegal and can result in a big fine. These fines are in place because riding a turtle can result in their death. They need to breathe just like humans. Also, these critters are mostly harmless unless provoked. An irritated sea turtle can easily take off some of your fingers.

In essence, the turtles are wonderful creatures to swim with and reside all around Maui. Maui is Turtle Town.
---
---
Ocean Life
When exploring the underwater world of Maui, you can see green sea turtles, a variety of small reef sharks, spinner dolphins, jellyfish, brightly colorful coral reefs, humpback whales, tropical fish, octopus, manta rays, monk seals, spotted eagle rays, whale sharks and more! Some of these you're more likely to see than others, but all are present. Maui is really one of the best snorkeling spots on the planet. Do a Molokini snorkel to see many different forms of ocean life.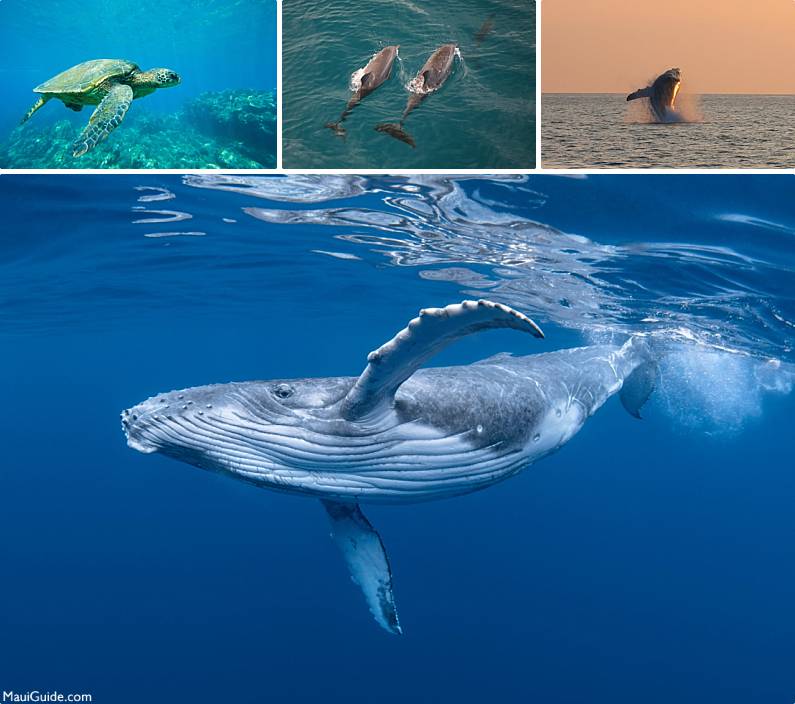 During whale season, you can hear the massive humpback whales singing underwater. The humpback's song carries through the water for miles and is different every year. To hear them, swim as deep as you can and stay still and quiet.
---
Ocean Dangers
Unfortunately, Maui's ocean is like all others in that it carries dangers. If you're cautious and safe, you'll get the most out of Maui's waters at no risk. First off, if you're not a good swimmer, don't go out without an experienced swimmer and some floatation devices. Exhaustion seems to be the primary reason for problems in our waters. Combine a swift current and an inability to stay afloat and you have a problem. Also, the surf on Maui can become large and dangerous with little warning. Stay away from large shore breaks and beaches with obvious swell activity. These areas are usually not good for snorkeling anyway because of the limited visibility. Big Beach in Makena is notorious for taking unsuspecting tourists and flipping them onto their heads.
Sealife can be dangerous too. Stay away from anything that you're unfamiliar with. It's best to just not touch anything. Some of the most harmless-looking things in our waters can pack a powerful sting, bite, or cut. Shark attacks happen on Maui, but they are very rare and the chances of getting bit are like winning the lottery.
---
---