We recently had some mainland friends ask what we would do if we only had 4 days on Maui for their 2022-2023 vacation.
Though most visitors only stay on our island for their Maui vacation, some like to island-hop and experience more than one place.  We thought we'd share our recommendations since it might help others planning 4 days on Maui.
The first thing to do, is book your experiences, hotel, car rentals ahead of time.  This summer (and most of this year) has been a bit of a mess.  We've had restrictions on activities and restaurant capacity but no restrictions on how many visitors could come to Hawaii, so we got hit hard and everything sold out.  Book early!  Also, download at least 3-4 Aloha 360 Podcast episodes for the plane.  Leslie and John are great at sharing our island.
Here's how I would personally plan the 4 days:

Day 1
A wonderful way to experience our island's geography quickly is with a vacation flight with Fly Maui Flight School. Ran by the same couple that creates the mentioned podcast, you can take off from the airport, see cliff-side waterfalls dump into the ocean (a sight very few humans get to see), whales in season, pristine beaches, volcanic coastline, towering mountains, rainforest as far as the eye can see, AND try your hand at flying.  Get off your flight and head straight on over to fly leisurely and get photos that will blow your friends' minds!
Though I prefer the Cessna trips, you can also go up on a helicopter.  If you prefer hovering, we suggest the West Maui & Molokai trip. It's amazing! Check out all of their Maui helicopter tours.  The trip to Molokai is truly A TRIP!  You get to see a bunch of Maui, cross the channel twice, and get to see some of the highest sea cliffs in the world.  Oh, and there are waterfalls from the cliffs.
My favorite part of our last trip to Molokai was when the pilot landed on the edge of the sea cliff.  He started fiddling with the stereo, the theme song for 2001 Space Odyssey came on.  When the music hit that dramatic part, he dropped us off the sea cliff straight down.  WHAT A RUSH!  We loved it.
Paia Town is just down the street from the heliport.  As you may know, we live in Paia and love it.  The shopping is great, the restaurants AWESOME, and the people watching legendary.  Grab some grinds and walk around.  As far as dining recommendations, I suggest Cafe Des Amis, Flatbread Pizza, or Mambo Cafe.  Those are my regular spots.
Head to your hotel, clean up, and get ready for an evening on the water.
If you're staying on the west side (Lahaina, Ka'anapali, Kahana, Kapalua, Napili) then book the dinner cruise with Hawaii Ocean Project.  This is the most spacious boat on the water, and one of the few that offers a multi-course sit-down dinner.  We loved it both of the times we went.
If you're staying on the south side (Wailea, Kihei, Makena, Maalaea) then book the Kai Kanani sunset sail, which leaves from the beach at Maluaka in Makena.  Though they don't do a traditional sit-down dinner, there's plenty of delicious pupus to fill up on.  This beautiful, luxury sailing catamaran is the roomiest boat of its size (they restrict capacity well-beyond what is suggested.)  We've gone on this boat at least 50 times over the last few decades.
You'll get back to your car just after sunset, which is perfect timing.  Head to your resort and go to bed early.

Day 2
Snorkeling is the perfect way to wake up, surrounded by fish, vibrant corals, and turtles.
If you're staying on the west side, take advantage of your proximity to the Pineapple Isle.  Lanai is amazing for snorkeling and scuba diving.  Join the crew of the legendary Trilogy to Lanai for snorkeling only accessible by boat. Enjoy no one else around!
For snorkeling on Maui, you don't have to be on the west side already. You'll find great beginner snorkeling at Ahihi Bay in Makena, which is a shallow reserve with TONS of fish. We got married about 30 feet from it at what was called the Sugarman's Estate. So many fish! If you snorkel from the shore, make sure there's no swell. The south swell season is in summer, but sometimes winter swells will wrap around or an unexpected south swell will hit. Swell can make snorkeling dangerous.  Also, enter at the cement slab, not over rocks and coral.
But when staying on the south side, I'm a big fan of Molokini Crater, which has an inner protected area for snorkeling.  You're safe from swell and the water clarity is far better than off the shore.  Molokini is also a reserve, so ocean life is diverse and abundant.  We love making the trip to Molokini, which is only a few miles offshore.  One of the most fun and fastest ways to get there is straight out from Kihei Boat Ramp with Redline Rafting. They offer a 5-hour trip (a pretty common duration for most boats), but they also do a really quick 2-hour trip.  This is pretty unique because it's inexpensive and leaves the rest of your day wide open.
Take the rest of the day at the beach, shopping, eating, and get an early night.  We're waking up early tomorrow again.  You'll find that's a theme on Maui, as most of the fun on Maui happens during the day.

Day 3
There are a couple ways to do Haleakala, but sunrise is famous for a reason.  If everything goes in your favor weather-wise, you'll watch the sunrise through the clouds below you, which is something you'll never forget.  A bucket list item for most people.  Entering Haleakala National Park for sunrise requires reservations, but if you book the tour with Haleakala EcoTours, you won't have to do a thing.  The trip with them is pretty spectacular because they take you in these big luxury vans with giant windows, so you get to enjoy the view versus driving the winding road yourself.  Their guides are knowledgeable about geology, history, and Hawaiian culture too, making for a much richer and more fulfilling experience.
Meals and comfy seating are included, and since you're not doing the driving, you can get plenty of relaxation time while enjoying the marvelous views from your oversized shuttle windows. Either way, it's epic. Lots of cool stuff to see going up and coming down, too. Kula is BEAUTIFUL, and Makawao has great shopping.
For those of you that want more from Haleakala, enjoy sleeping in, and want to get away from potential crowds, go on a Maui hiking tour with Humble Tours. You'll enjoy incredible views from 2 different trails at 10,000+ feet above sea level.  They only take 7 passengers per group, and you'll be far away from other visitors, so you'll find out exactly why this vast crater is considered the quietest place on Earth!
Get back to your hotel and freshen up.
If on the south side, head to Island Art Party to enjoy guided painting with snacks and drinks. This is one of those experiences most visitors don't know about.  Good music, a wide array of drinks, patient instruction, and friends/family.  It's a blast!  And you get to take home a souvenir you made!
If on the west side, enjoy a delicious feast, dancing, music, sunset, and learn about Hawaiian and Polynesian culture at the Royal Lahaina Luau. It's fun for everyone in the family and you get to see fire dancers too!

Day 4
Get the heart going and capture what might already be on your bucket list: Your First Wave! If on the south side, Waves Hawaii Surf School will get you up and riding in no time.  If on the west side, go with Rivers to the Sea Surf School. The Rivers Ohana are amazing people that know waves better than most on the planet.  Whether you take Maui surf lessons on the west or south side, you'll be taken to spots with small, mellow waves to learn on.  Don't rent a board and paddle out on your own if you're new to the sport.  A lot of spots can be very dangerous.  Your instructor will keep you safe, happy, and riding.
For those up for one last Valley Isle thrill, we love zipline courses in Maui, which include experiences like riding over canyons and through remote areas of Upcountry's fragrant eucalyptus forest, swinging bridges a la Indiana Jones, and incredible views. Guests must be able to hike at least a 1/2 mile at elevation.
After ziplining, grab a bite at one Maui's newest restaurants, Marlow in Pukalani.   Upcountry now has veteran chef Jeff Scheer opening his own spot with woodfired sourdough pizzas, beef/pork meatballs, Spanish octopus, charcuterie, and so much more.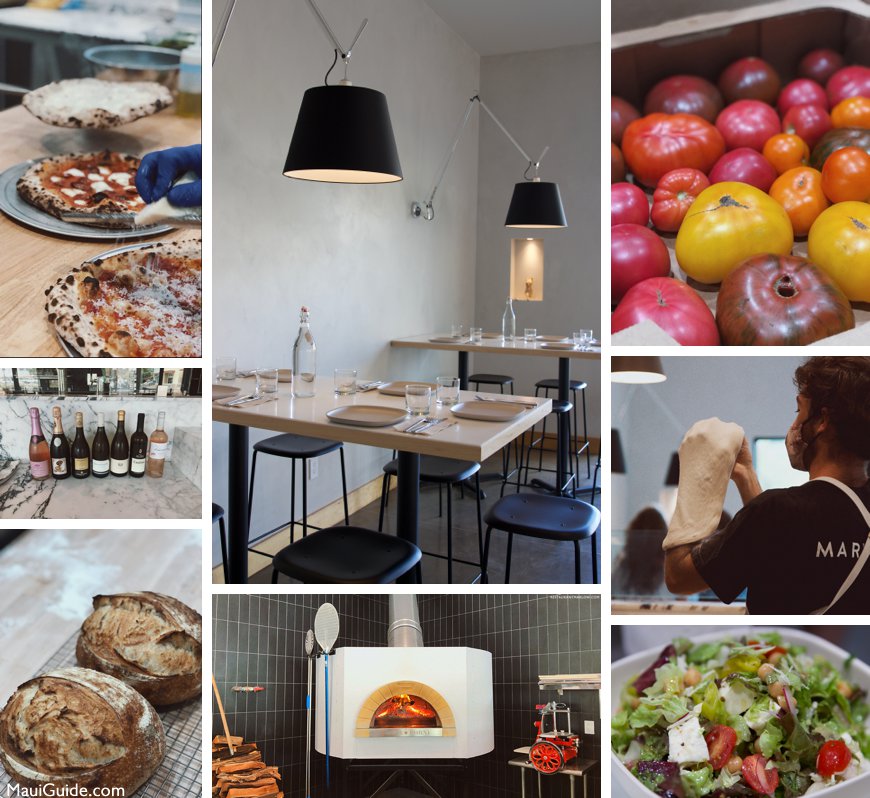 Then once you've enjoyed a few pies, go grab a pint or 2 next door at Marlow Aleworks. This new brewery has been making headlines thanks to the great views and comfortable atmosphere, but mostly due to the delicious beers they're creating.  You'll thank us.
See you next year, J Peterson
Thank you Maui Photographers for most of the photos.  MAHALO!

ONCE THINGS MELLOW OUT:
Things are still pretty stressful along the Road to Hana, so we're not advising visitors to go to Hana for a while.  We got hit so hard with visitors this year, the Hana Highway turned into a parking lot and ruined trips.  More tragically it ruined the lives of a lot of locals.  Imagine having to drive to Kahului each day for work, and you have an extra 2-3 hours commute each way!  Scary having that many cars on that little road too.
The Road to Hana is great, but you don't want to plan anything else that day either. Best to stay the night, but I've had a blast on day trips many times. Oheo Gulch is a far better option for seeing waterfalls than any you might find along the road, plus there's plenty of parking.  Another reason we like Oheo Gulch is that it's managed well, meaning they'll shut down access if water levels become dangerous upstream.  It can also handle a large volume of people, so you never feel crowded.
If you do the full loop (which is AWESOME), I suggest doing breakfast in Paia or grab something quickly, and check out the falls along the way. Waikani Falls and Hanawai are right off the road, so you don't have to stop. Then definitely stop at Wai'anapanapa for the black sand beach and check out the black sand beach (you now need reservations).
Also, stop at Wailua Falls (right off the road), and Kipahulu if time. Kapahulu (inaccurately also known as Seven Sacred Pools and more accurately 'Ohe'o Gulch) has one of the most epic hikes EVER!  You hike to Waimoku Falls, which is incredible. If you do this, I would not stop too much along the Road to Hana. Drive past a few waterfalls, visit Wai'anapanapa, and then go on the hike. It takes time to do the full hike, so leave for Hana very early.
So much to see. Don't rush it. Stay at the coolest spots and skip the rest. You want to drive back before sunset. I like doing the full loop, though it's bumpy for a good portion on the backside. Driving the dry backside with the windows down, warm air, the sun setting, and still having the chill of waterfalls in your bones is pretty epic.