Top Lanai Activities
Diminutive, isolated, and mysterious, Lanaʻi is one of the least visited islands in the state. With no major airport and just one ultra-plush, bank-breaking beach resort, this tiny, teardrop-shaped island is often marketed as a getaway for the ultra-rich. But the Pineapple Isle is so much more than a billionaire's enclave. The island is home to miles of off-road trails, otherworldly scenery, unsurpassed snorkeling, and a gripping history. Discover the many different facets of Lanaʻi with these top five Lanai activities.
---
See a side of Hawaii few visitors have seen— one with isolated beaches, ghostly shipwrecks, and towering sea cliffs— on this fun rafting trip. This excursion departs from Lahaina Harbor (West Maui) before whipping across ʻAuʻau Channel for your snorkeling trip.
You'll stop in secluded snorkeling nooks where marine life abounds. This adventure runs you to 2 different spots for snorkeling. You'll have lunch, see the island from the water, and enjoy a more intimate snorkeling excursion than you would on the big boats.
---
An unlikely attraction is nestled near Lanai's tiny airstrip: Lanai Cat Sanctuary. The 3.5-acre 'purradise' was founded in 2004 as a mission to save both Lanai's feral cats and native birds. Today, the Lanai Cat Sanctuary provides food, water, and shelter for over 600 cats. The facilities also include a high-tech mobile veterinary clinic— the only animal medical resource on Lanai— granting each and every cat access to personalized medical care.
The Lanai Cat Sanctuary is open 365 days a year. Guests are more than welcome— contributions from generous visitors actually fund the sanctuary! You might even meet your future fur baby: cats at the sanctuary are available for adoption, and getting your new friend back to the mainland is easier than you might think.
---
Want to venture beyond Lanai's quaint city and plush resorts? 4×4 is a must. This guided 4×4 tour takes you along Lanai's rugged off-road trails to the island's most scenic locales. You'll journey through ironwood forests and Mars-like landscapes to lonesome beaches and fascinating historical sites.
But the best part isn't the scenery— it's the insider information dispensed by your guide. You'll experience Lanai through the eyes of a local as you learn about the island's flora and fauna, rich history, and mystic legends. After the tour, you'll depart with a renewed appreciation and deeper understanding of life on the Pineapple Isle.
---
---
Lanai Culture and Heritage Center offers visitors an in-depth look at Lanai's engrossing past. Founded in 2007, this museum illustrates the island's history, traditions, culture, and geology. The center boasts a gallery with dozens of native artifacts, showcasing over 1000 years of life on Lanai— from Hawaii's pre-contact era to the plantation days.
While Lanai Culture and Heritage Center remains temporarily closed due to covid-19, you can still view virtual exhibits online. The center is also accepting bookings for special events.
---
The aptly named Lanai Adventure Park is situated alongside the Four Seasons Sensei Resort near Lanai City. Numerous activities are on offer here, from ziplining and e-bike tours to an aerial obstacle course. Take a zipline tour to absorb the dramatic, birds-eye-view sights of Kaiholena Gulch's lush environs. Or, opt for an e-bike tour and rip across one of the valley's four trails with a knowledgeable guide.
Lanai Adventure Park's biggest allure is the aerial obstacle course. Put yourself to the test as you navigate two stories of physically demanding obstacles and challenging mental puzzles. You'll have 90 minutes to complete the course, so bring your brainstorming power.
---
BONUS: Hulopoʻe Beach
Hulopoʻe Beach is Lanai's most visited beach— thanks to its accessibility and striking beauty. This palm-fringed crescent of sand was named America's Best Beach in 1997, and it's easy to see why.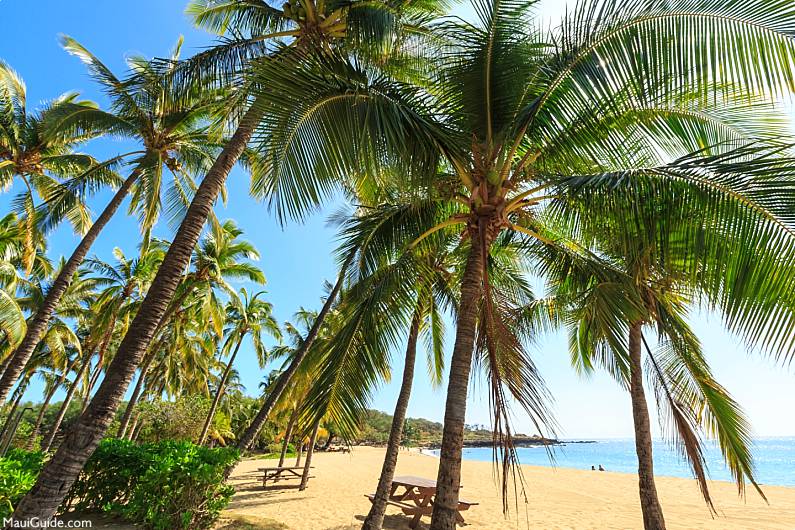 A Four Seasons Resort overlooks Hulopoʻe's idyllic sands, but the beach doesn't feel overly 'resorty.' Instead, Hulopoʻe is a quiet natural haven with golden sands, crystal clear waters, and calm conditions most of the year. The nearshore waters are a protected marine reserve, reflected in top-notch snorkeling and abundant marine life. Be sure to explore the large tide pools on the bay's eastern edge, which are rife with small creatures like hermit crabs and sea stars. Or, make the short, scenic trek to view Puʻu Pehe (Sweetheart Rock), a lava rock landmark.
Hulopoʻe boasts amenities like picnic tables, bathrooms, showers, and BBQ grills. The beach is located just steps from Manele Harbor (where the Maui ferry docks), making it a popular destination for Lanai day-trippers.
We hope you enjoyed our Top 5 Lanai Activities post. Check out more great Lanai and Maui Information.
---
---
LANAʻI MAP
---