Maui Film Festival
A unique, local Maui favorite – July 6 – 10, 2022
Every year, Wailea, Maui comes alive with a star-studded event honoring some of the brightest and most unique talents in cinema. The event, the Maui Film Festival, began in 2000 by Barry Rivers to celebrate the art of storytelling.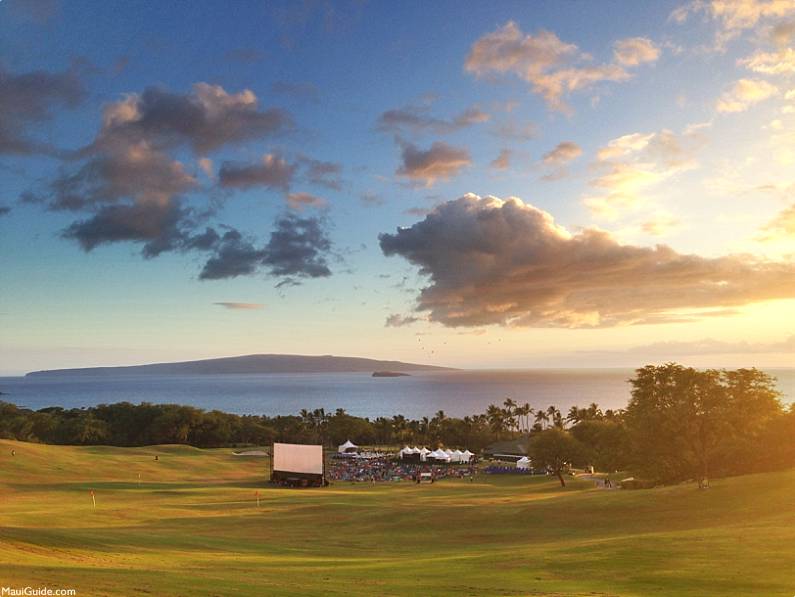 "Original Cinema is the rocket fuel that powers the Maui Film Festival by revealing its character, igniting its passion, focusing its vision, and soothing its soul."
– the Maui Film Festival
True to this intent, the Maui Film Festival stands out like no other film festival in the world. While Cannes, Sundance, and Berlin bring extravagance, the Maui Film Festival delivers purity of the art in a casual setting with understated elegance and an Aloha charisma unique to Maui.
Set in this gorgeous, relaxed island atmosphere, part of the draw of this movie industry experience is that "big business" has been left behind on the mainland. A-listers feel free to mingle with the crowd and enjoy the art! Event organizer, Barry Rivers, recalls one year when "Clint Eastwood walked up with beach chairs for his wife and himself, bought tickets for the Celestial Cinema, and sat down with the crowd to enjoy the double feature."

"It's more beautiful than any other film festival. It has a great vibe, you know, there's no schmoozing happening here. It's about enjoying films and exposing people to a huge assortment of different types of films…It's sincere."
– Olivia Wilde (2011 – Winner of Shining Star Award)
A Movie-Goers Festival
What types of events and features can be found at the Maui Film Festival?
Hailed as a movie-goers festival, the Maui Film Festival hosts five days and nights of film premieres, filmmakers' panels, special screenings, tributes, and award ceremonies. The festivities rev up in the evenings at numerous culinary arts celebrations and galas, featuring world-renowned chefs, delectable desserts, and sophisticated Maui farm-to-table presentations.
Over 1000 amazing films are submitted, curated, and reviewed until a select 50+ of the most unique narratives, documentaries, international films, and film shorts are compiled into a menu that will get any movie buff salivating with glee. These exciting films run the gamut from major studio productions costing $75,000,000 to first-time or independent distributors with a meager $50,000 production budget. All, of which, can be viewed in rare and inspiring venues. Let creativity take hold!
---
Parties & Celebrations
Maui Film Festival Events – Soirees, Galas, Culinary Celebrations!
Many of these events are still on hold since the covid shut down, check the Maui Film Festival website for the most up-to-date information.
Private and Special Events for VIP ticket holders may include:
Meet & Greet Opportunity at pre-tribute 'Red Carpet'
Festival Luminary Celebration Dinner
Filmmakers' Panels – Intimate Conversation with…
Filmmakers Brunch
Filmmakers Dinner
Private Pool Party
To get celestial cinema tickets, VIP passes, and admission to the parties, visit Maui Film Festival
Taste of Summer
The Opening night launch party kicks off the Maui Film Festival with charisma! Past events have been located at Capische in Wailea and co-hosted by Modern Luxury Hawaii, with smart and tasty whole fish stations, a tempura station, a roasted Maui pig station, and a poke bar. This year is TBA.
*This is a 21 and over event.
Taste of Chocolate
Taste of Chocolate has been called a chocoholic's fantasy! Maui pastry chefs show off their finest sweet sensations at this evening event in Wailea. Escape into paradise with desserts like chocolate ganache cupcakes, coconut profiteroles, white chocolate cheesecake with Grand Marnier syrup, or avocado ice cream! Crowd pleasers like cocoa & Kula coffee-rubbed beef brisket sliders and Maui-tinis have also been found on the menu. But the fact that you can dress up and mingle with actors, directors, producers, and other exciting film buffs makes this party especially sweet! Past events have been hosted by Variety Magazine.
*This is a 21 and over event.
Taste of Wailea
The Taste of Wailea is a signature event for the festival and highlights the very best that Maui has to offer from the culinary world. Names like Peter Merriman (Merriman's Kapalua, MonkeyPod), Mark Ellman (Mala), Alan Wong, Cameron Lewark (Spago), Bev Gannon (Hailiimaile General Store), and Brian Etheredge and Chris Kulis have been known to provide for the occasion. Most intriguing is that this exclusive event is set outdoors atop the lower slopes of Haleakala on the Wailea Gold and Emerald Golf Courses, and offers breathtaking ocean views. Mingle with the film stars and sample a few delectable dishes to find out why Maui is nicknamed No ka Oi – the best!
Parking for Event:
Parking is located at the Wailea Resort Event Parking Lot at the top of Wailea Ike Drive. A continuous shuttle will take patrons to the event.
*This is a 21 and over event.
---
---
Maui Film Festival Venues
The Venues – Unique to Maui with a major WOW factor!
Stardust Cinema (New Location)
Celestial Cinema
This is the "crown jewel" of the festival. Located on the lush green slopes of the Gold and Emerald Golf Courses in Wailea, this spectacular theatre allows movie-goers to enjoy features under the stars in the perfect Maui weather. This outdoor venue can seat 2,500+, utilizes a 50-foot screen; and, best of all, the entire venue is powered and lit by solar energy.
This is where the festival kicks off with a traditional Hawaiian blessing followed by opening night premieres.
"The Celestial Cinema is mind-blowing! It's also one of the best places anywhere in the world to launch a movie."
– Trevor Groth, Director of Programming, Sundance Film Festival
TIP:
Festival tributes also occur here. Be sure to look for tickets to that night's screening of the star you would like to see honored.
Location:
The venue is located on the Gold & Emerald Golf Course in Wailea Maui.
Parking:
Parking is located at the Wailea Resort Event Parking Lot at the top of Wailea Ike Drive. When approaching Wailea from Piilani Highway (Hwy 31), as you make the right-hand turn onto Wailea Ike Drive, the lot will be on your left. A FREE continuous shuttle, starting at 6:15 p.m., will take attendees to and from the event.
Will Call:
Will call and ticketing counter are located in the lobby of the Gold & Emerald Golf Course Pro Shop and Gannon's Restaurant. The FREE shuttle buses will drop attendees off here, and the theatre lawn is a short walk away.
Seating:
Seating is on the lawn. Low-back chairs, pillows, and blankets are recommended. Arrive early as seating is on a first come first serve basis. Low-back chair rentals are available for purchase.
Refreshments:
The event is catered by Gannon's Restaurant. A usual menu consists of sandwiches, wraps, vegetarian options, Maui Kazowie Popcorn, and more. Coffee, water, soft drinks, and fresh-squeezed lemonade are also available for purchase.
Alcoholic Beverages:
This is an alcohol-free venue. No coolers are allowed on-premises.
Castle Theatre
Castle Theatre is a state-of-the-art theatre equipped with advanced lighting and sound systems and is located at the Maui Arts & Cultural Center. The 1200-seat venue is multi-tiered and was configured so that no seat is farther than 90 feet from the stage.
Showing:
Documentary, unique shorts, feature films, and narratives will be featured here during the festival.
Parking:
This venue has ample free parking. NO shuttle service is available to this venue.
Location:
Maui Arts & Cultural Center is located at 1 Cameron Way in Kahului.
Refreshments:
Events at the MACC are catered by local Maui restaurants and can be purchased beforehand at on-site beverage and food bars. Guests are asked to enjoy their food and beverages at the bistro dining at the Founders Courtyard, as they are NOT allowed in the theatre.
Call the MACC Box Office for specifics regarding time and menu at 808-242-SHOW.
---
Awards & Honorees
Maui Film Festival Awards and Honors
Nova Award
Rising Star Award
Visionary Award
Luminary Award
Shining Star
Pathfinder
Past honorees have included:
Clint Eastwood, Willie Nelson, Helen Hunt, Anthony Hopkins, Claire Danes, John C. Reilly, William H. Macy, Angela Bassett, Tim Burton, Zooey Deschanel, Jake Gyllenhaal, Greg Kinnear, Mike Myers, Patricia Clarkson, Adrian Brody, Olivia Wilde, Zac Efron, Joan Allen, Pierce Brosnan, Andrew Garfield, Elizabeth Banks, Woody Harrelson, Megan Fox, Dennis Quaid, Virginia Madsen, and Owen Wilson among many others! Maui Film Festival FAQs
Frequently Asked Questions:
1. Where can I buy tickets?
Tickets are available for purchase at www.mauifilmfestival.com, or by phone at 808-579-9244. Festival passes and VIP passes offering special savings are also available for purchase.
2. Is the Maui Film Festival family-friendly?
All events are kid-friendly, except the Taste of Wailea, which is a 21 and older event.
A special ticket price is offered for children under 10 years of age for the Celestial Cinema and Castle Theater.
Parents are urged to preview each movie before bringing children.
3. What else is going on?
There are varieties of activities and events that take place each and every year that are not listed here. Please check the current year's agenda for full details. Past years have offered: sandcastle contests, beach walks, morning yoga, surfing & SUP lessons, kids' free films, Father's Day Concert, and more.
4. Are camera's allowed?
The use of video cameras is strictly prohibited at all Maui Film Festival Wailea venues.
5. What is the suggested attire for the Maui Film Festival and events?
Dress for all events is "resort wear" or "Aloha casual". Outdoor events may require a light sweater or jacket.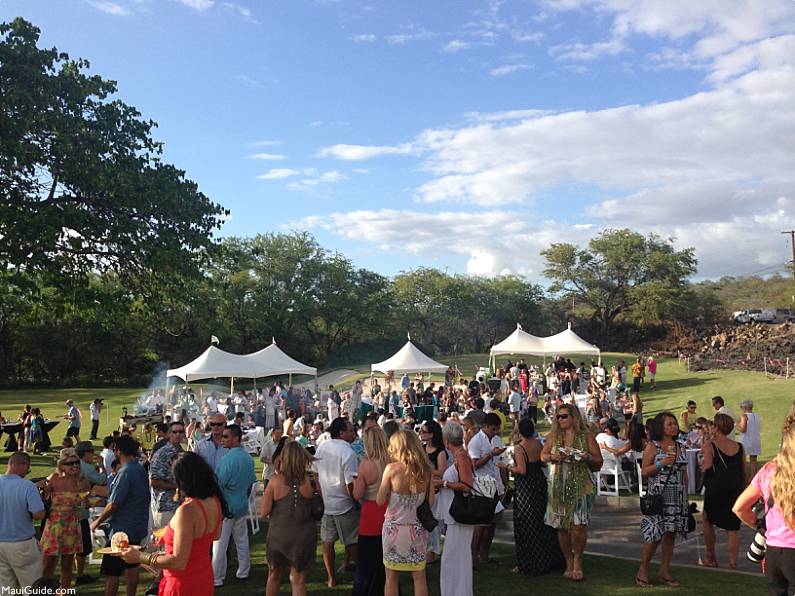 ---
Ongoing:
From late November into early January, the Maui Film Festival, in collaboration with the Maui Arts & Cultural Center, offers its annual FirstLight Academy screenings. Every movie that won an Academy Award that year will be shown at the Castle Theatre at the Maui Arts & Cultural Center.
Location:
Castle Theater, Maui Arts & Cultural Center at One Cameron Way, Kahului, Maui 96732
---
---