UPDATES: Maui Fires 
UPDATE: 10:30 am September 26sth, 2023
We're devastated by the ongoing fires here on Maui.  Below, we've put together news from friends and family and the authorities to help fill in the gaps of what's currently very sparse information. Please Donate to Maui.
Overall Updates:
Upcountry Maui Community Meeting answers some questions and raises concerns.

New

Pukalani water test results

published.  Lots of disinfectants.

President Biden has finally approved paying for 100% of debris removal over an 180 day period over the next 9 months.

Maui County Council voted 8-0 to adopt a 0.5% surchage on top of the existing State General Excise Tax.  This new tax will pay for housing infrastructure, 20% of which will go towards the Dept. of Hawaiian Home Lands. 

Lahaina residents are finally returning home to see what's left.

Price Freeze remains in effect – The Executive Director of the Department of Commerce and Consumer Affairs' Office of Consumer Protection, reminded Maui residents that a price freeze is still in place for specific essential goods and services on the island. Initiated on August 9, 2023, this particular freeze exclusively targets those essential items and services highlighted within the proclamation and is set to be in place until Nov. 6th.
Oprah Winfrey and Dwayne Johnson began a Maui Fund – If you are displaced, apply online or call (808) 427-7777 for $1,200/month for living expenses.  It's caused all kind of backlash, but at least there's more money in the game.
Now that 100% of the burn area has been searched for victims, the EPA has begun removal of toxic/hazardous materials in Lahaina. It's thought it could take 3-10 years.
The FBI has helped in releasing a list of 388 people that are currently unaccounted for, though it's now down to 22 people since then from confirmations.
AirBnB has units for the displaced – If you have an AirBnB, you can host our displaced temporarily!
Please donate to Joel Winicki– He and his team have been working tirelessly to clear trees and brush in Kula.  last 4 of his phone# is 8632 for venmo. His team are probably the most urgent of need to help Kula. He gets no pay and works all day.
Water is still unsafe – Both in parts of Kula and most of Lahaina. We just did a water quality test in Pukalani.  See the Pukalani water test results.
Who resigned in Maui? – Herman Andaya, Maui's emergency management chief, has resigned for health reasons amidst his admitting to not having run the emergency sirens in Lahaina Town during the fire (and no regretting it.)

The road towards Lahaina are only open 6am – 10pm – Honoapiilani Hwy (30) open during the day, and open from 10pm to 6am only for West Maui residents, West Maui employees, and first responders.
97 fatalities, 85 publicly identified, 15 outstanding investigations – It's one of the deadliest wildfires in the US. 100% Lahaina has been searched.  
Hospitals are NOT Overwhelmed – Rumors are circulating that Maui Memorial, Kula Hospital, and Lanai Community Hospital are overwhelmed, which is untrue.  They responded that they have ample capacity.  Do not avoid the ER.
1000's of pets missing – The fires came so quickly, it's still unknown how many pets were lost.  Maui Humane Society has been doing a great job of saving and reuniting pets with their owners.
Over 7,782 displaced people have been moved to hotels from shelters – The majority of the displaced are now at the Hyatt, Outrigger, Royal Lahaina, Maui Seaside, Honua Kai, Astons, Fairmont, Andaz, Maui Beach Hotel, and Westin. That represents about 3,167 families.
At least 2,700 structures were affected or completely destroyed. – These numbers will go up as we get a proper count.
100's of thousands of visitors have left Maui – Miscommunication has forced visitors to think all of Maui is closed.  It is not and we need your on-island financial support to get through all of this. Learn more about when to visit Maui again.
100's of businesses burned – And 1000s have been majorly affected or closed permanently.
A reminder that Kula had fires too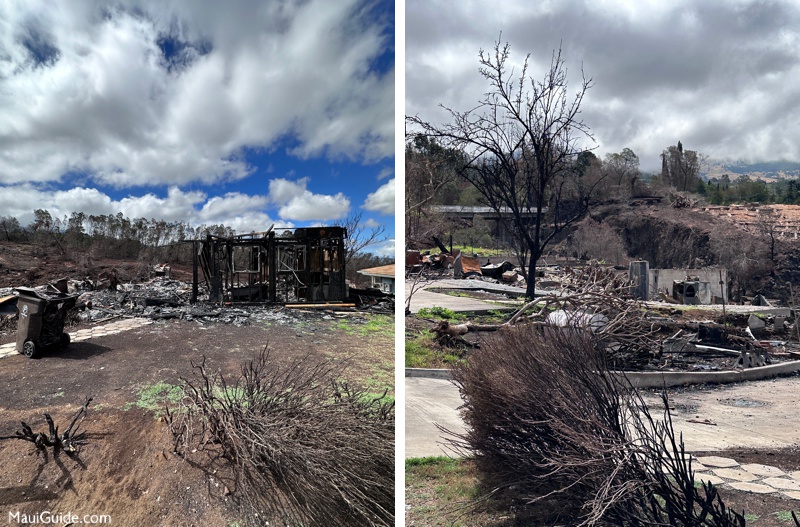 Maui and the Big Island have had some terrible fires since Tuesday evening. Even though Lahaina has been the most devastating, keep in mind there are many major fires across Maui (not just the west side).  Lahaina is said to be 100% contained on 2,170 acres burned, but remember that it was said to be 100% contained hours before it flared up and destroyed the entire town. Pūlehu/Kihei is said to be 100% contained.  Kula containment is at 96% on 202 acres burned, and Olinda at 90% on 1,081 acres burned. Both Ka'anapali and Haiku fires are 100% contained/extinguished.  Winds have died down a bit, so helicopters are able to assist with water drops and delivering supplies.
Our community is second to none
Crucial Resources:
UPCOUNTRY & LAHAINA UNSAFE WATER
Important Tips:
The island will need your tourist dollars more than ever, so please don't cancel your trips. Lahaina is closed, but the rest of the island is open.
Do not drive around unnecessarily on the West Side. Roads need to remain open to emergency vehicles, bus evacuations, and those donating (see donation list below).
Treat any downed powerlines as though they are live.  Stay away!
Don't use excess water or electricity.  It affects the pumps for firefighters that need it more.
Don't fly drones or other aerial vehicles, as it could disrupt rescue efforts. 
If you have an AirBnB, please offer it to displaced residents for temporary then long-term rental.  If you work at a hotel/resort, please encourage your management to open rooms for the displaced. Email MEO with any available units.  It's disgraceful how slow these mega-resorts have been in responding.
Lahaina Updates (100% contained):
Traffic is closed again into Lahaina.
A curfew will be in place from 10pm-6am daily in Historic Lahaina Town and affected areas.  
Lahaina Harbor is gone, and the banyan tree is charred (it's said that if the roots are healthy, it will likely grow back, but it looks burned yet standing). Most of Front Steet and Lahaina Town has burned, including the north section of Puamana. Many boats left and helped people to escape. The Coast Guard is reported as having saved people in the ocean trying to escape flames and smoke. Multiple fires are still burning in Lahaina.
There is no power in Lahaina or drinkable water.
Upcountry Updates (96%/90% contained):
Olinda 90% and Kula is 96% contained. Upcountry got hit pretty hard with approx. 1,300 acres burned so far with 2 fires. Kula Lodge is still standing (we got a false report) and Ace Hardware did not explode (another rumor circulating). The fires are still going in Kula. We don't see any smoke on Haleakala from a distance, but there are plenty of hot spots.  The water in many parts of Kula is undrinkable. 19 homes have burned. 
Pūlehu/Kihei Updates (100% contained):
A fire has traveled towards Kihei from Pulehu roads in Kula and Oma'opio mauka of Pi'ilani Hwy. We don't see any smoke on Haleakala.
---
Lost your home or think you've lost your home?
Things will likely bottleneck, so get on it asap:
---
How Often Are There Fires?
It seems as though every summer we have at least 1 fire on the south or west side of Maui. Some are very small and some huge. Sometimes a Maui fire starts naturally and other times they are set by the hands of mentally disturbed arsonists.
As of this large fire in August 2023, The County of Maui has a maximum of only 65 on-duty firefighters at any one time across the island of Maui, Lanai, and Molokai.  Insane.
The heat of summer in Maui creates quite a lot of dry brush. This combined with fast, hot winds makes for the perfect environment for out-of-control fires.
Where?
Most of the fires start either on the south or west side of the island. These areas don't receive the same rainfall that the East and North Sides get. Rain clouds dump most of their moisture on these faces when they reach altitude, which leaves the South and West with drylands. Though this is perfect for sun tanning on our beaches on Maui, it makes for an ideal environment for fires to start.
---
How Do Maui Fires Start?
Sometimes it's careless cigarette smokers, other times it's arson. But we often think it's from poorly maintained powerlines.  We have reports from where the Olinda fire began of homeowners that have been complaining about dangerous lines for years.  We've also seen video footage from near Lahaina hours before the big fire where powerlines were bobbing around in the strong winds.  Here's a shot we took of a power pole in Paia Town from 2016.  It was like this for weeks if not months.
---
Maui Fire Causes Road Closures
One of the big problems stemming from these fires is the closure of Honoapiilani Highway. This road runs along the cliffy west coast of Maui and connects the West and Upper west with the rest of the island. Often, when fires start on that side, this road is cut off.
There is only one other road to take if you need to get to the rest of the island. Unfortunately, this road is long and dangerous. State Highway 340 (Kahekili Hwy) is a winding road that travels around the northwest side of the island. It hugs cliffs and is often no wider than 1 car. During fires, this area is usually closed off to everyone except for those that live in Wailuku.
When the roads are a problem, call (808) 986-1200 for regular updates on road closures.
---
What To Do When There Is A Maui Fire
If you see a fire, report it to the fire department immediately. If you're trapped in a fire, call 911. If you're told to evacuate, do it! If you have plans to travel around Maui and you know of a fire, take the time to figure out if it will be possible. It's best to stay on the side where you have your accommodations. If you're unable to get to where you're going due to road closures, call the number above.
See more Maui natural disaster information and get the Maui Weather Report.
---
---