(This was an April Fools Joke.)
With the vaccine in place and restrictions relaxing on Maui, visitors are at a frenzy to visit one of the most popular vacation destinations in the country, and big corporations are quickly realizing the advantage of opening locations in the Aloha State. As part of Maui County's new Growth Plan, dramatic reconstruction of some of Maui's most popular towns has been approved, including Lahaina, Wailuku and Hana.
West Maui
Aloha Waterworld Resort & Waterpark
Demolition begins next week on Lahaina Town's newest project, the Aloha Waterworld Resort & Waterpark, a five star resort resembling the 1995 post-apocalyptic action film. According to investors, the hotel will include a Waterworld-themed luau, set on a floating stage on the surface of the 500,000 gallon wave pool. Located directly off of West Maui's famous Front Street, the resort is expected to be one of the highest priced destination resorts in the country. Custom trimarans will be designed to transport guests from shore to the offshore resort and water park, and priority access will be given to anyone who can sufficiently prove they are friends with Kevin Costner.
Walmerica
Phase 2 for Lahaina also includes another massive undertaking, a controversial BIG BOX-funded Mall of America, or 'Walmerica'. All existing Front Street shops, galleries, museums and restaurants will close for construction beginning July 1st in preparation for the 150-store, 12 story oceanfront shopping utopia that will replace the historic Pioneer Inn and 6 acres of surrounding property. While much opposition has come from nearby residents, lead project investor James Van Der Beek (no relation to the actor), replied that "it was only a matter of time before Lahaina became the next Las Vegas, and if there's one thing Maui needs, it's a decent Lady Foot Locker with a view."
Central Maui
Iao Highway
With the addition of the Walmerica, a special highway will be built to increase traffic flow within the already congested area of downtown Lahaina. The new highway will begin at the existing site of the historic Iao Needle and continue through the West Maui Mountains until reaching Walmerica's rooftop parking lot, which includes a mandatory $17.50 valet parking fee and proof of purchase within the hour.
While members of Maui County have done their best to save Iao Needle, it appears that the top half will be cut down to make room for the highway's onramp and corresponding Walmerica billboard. Highway architect Sarah Michelle Gellar (no relation to the actress), says that "no matter what people may think, this will be the most beautiful highway in all of America, if not the world. Why look at history when you can drive straight across it!"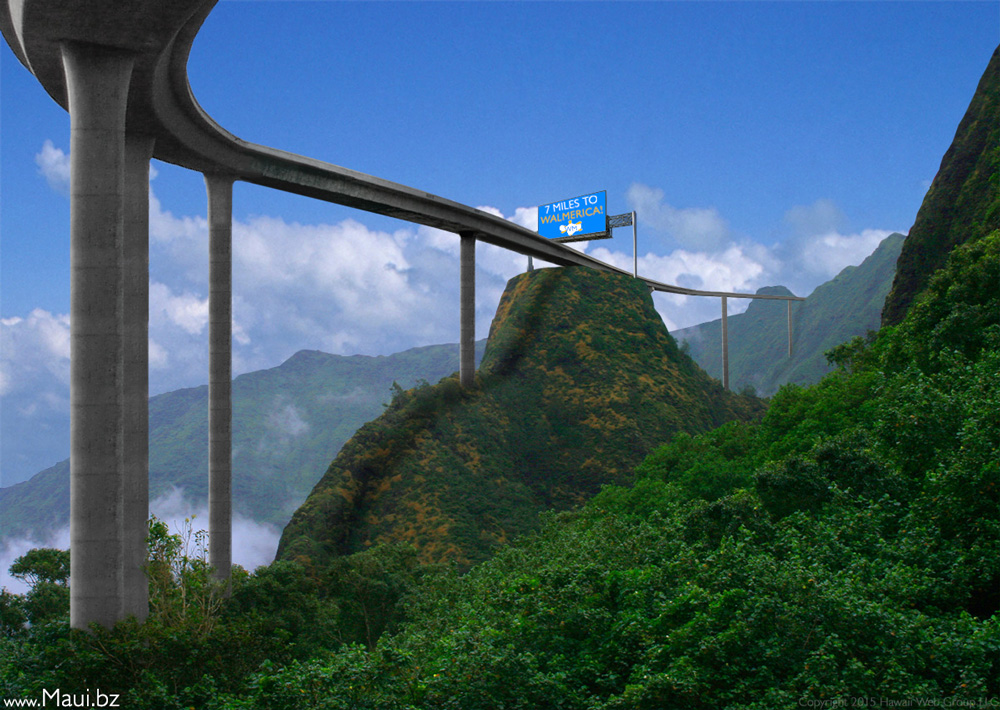 East Maui
Jurassic Theme Park
While most Growth Plan projects are scheduled to begin later this year, East Maui was the first to jump aboard plans for major reconstruction, already tearing down multiple miles of the Road to Hana in the area between Wai'anapanapa State Park and O'heo Gulch (aka Seven Sacred Pools) in order to make room for Maui's new Jurassic Theme Park, slated to open for business in early 2021.
Featuring a ride called 'Clever Girl' that will allow theme park attendees to ride an animatronic Velociraptor from the former site of O'heo Gulch to Hana Bay, the Jurassic Theme Park will also offer a state-of-the-art Sky Tram, 'Hold Onto Your Butts', offering exciting panoramic views of the park's Tyrannosaurus Tex Mex Food Court and peekaboo views of several former historical sites.  The tram ends at what is being heralded from early VIP rehearsal viewers as the most unique if not the best Maui Luau, with hula dancing Jeff Goldblum impersonators and fire dancing velociraptors. While all employees will be required to wear a dinosaur costume and speak only in quotes from the hit movie, the theme park will create approximately 17 new part-time jobs for the island.
For those still interested in experiencing the scenic Road to Hana, we suggest a hearty swim from Paia Town (be aware of heavy fines associated with coming ashore near construction sites) or a 15 minute flight on Walmerica Air (only $300 with associated Walmerica investment presentations).
Mahalo for reading! For more information or specific questions regarding Maui County's Growth Plan, please contact Sean Puffy Combs (no relation to the rapper/producer/actor/entrepreneur).
OH, and in case you're still in the dark:
APRIL FOOLS!