Hiking On Maui
There are a variety of excellent guided hiking tours around Maui, including the options listed below. Maui hiking essentials such as backpacks, rain gear, bug spray, water, and food are all provided, and often transportation to and from your hotel can be arranged for an additional fee. For those unsure of exactly where to go or what to see, a local guide can be the key to an unforgettable Valley Isle hiking experience.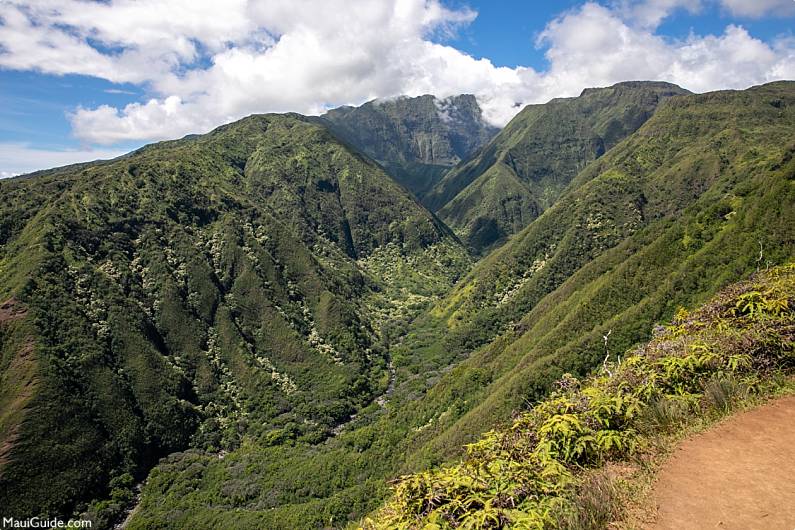 Honolua Ridgeline Hike: A Conservation Experience
Difficulty: Easy to Moderate
Location: West Maui
Length: 2 Miles, roundtrip
Time: 3.5 Hours
HeleWai Eco-Tours provides one of the most distinctive hikes on the island on their Honolua Ridgeline Hike: A Conservation Experience. This roughly three-and-a-half-hour journey takes small groups—as in no more than four people—through private land that abounds with endemic flora and fauna. Knowledgeable and passionate naturalists provide an in-depth lesson on the region's cultural and environmental importance and highlight the need to protect West Maui's watershed and native forests. Both educational and exciting, this is an unparalleled glimpse into Maui's natural beauty. Call (808) 208-6032.
---
East Maui Waterfalls & Rainforest Hike

Difficulty: Easy to Moderate
Location: East Maui
Length: 2.5 Miles
Time: 5-6 Hours
The most popular Hike Maui tour option, it's here at Twin Falls where you'll hike along two streams to reach 3 to 5 waterfalls, ranging in height from 10 to 40 feet tall, and many are not open to the general public. Get an inside view of Maui's expansive rainforest grounds, and spend the day swimming and jumping into large pools at each waterfall location. Located on the Hana Highway, this hike also allows for guests to climb volcanic shelves at 3 waterfalls to take a little higher of a leap (optional) into the crystal clear waters below! Learn more about Maui's terrain and history, and enjoy an exciting adventure with friends and family. Call (808) 784-7982.
---
Haleakala Crater Hike
Difficulty: Moderate
Location: Haleakala Crater
Length: 4 Miles
Time: 7 Hours
This full-day hiking tour offers some of the most fascinating vantage points on Maui! Not only will you have the opportunity to hike into both sides of Haleakala Crater, but you'll experience gorgeous, dramatic views during each. The first hike, a total of 2 miles, begins at the 10,000 ft. summit of Haleakala Volcano and courses near huge cinder cones and desert-like scenery, while the second hike, another 2 miles, allows you to see the exotic Hawaiian Silversword native plant species. Keep an eye out for the state bird of Hawaii, the Nene goose, as well!
---
Short Waterfall Hike
Difficulty: Easy
Location: North Maui
Length: 1 Mile
Time: 3-4 Hours
For those traveling with older family members, smaller children, or who are simply short on time, this short waterfall hike is the ideal way to see the beauty of Maui without committing to a full-day adventure. Guides will teach guests about Maui's rainforest areas and flora and fauna, all while guiding you to two scenic waterfalls in a conveniently-located valley along Hana Highway. Work on your cannonball skills from rock ledges, or take a well-deserved rainforest dip in one of two waterfall pools. Call (808) 784-7982.
---
Hana Full-Day Waterfalls & Rainforest Hike
Difficulty: Moderate
Location: East Maui
Length: 4.5 Miles
Time: 11 Hours from Central Maui
For those looking for the ultimate rainforest, jungle and waterfall adventure, Hana is an absolute must. Leave the driving up to the pros at Hike Maui and sit back and enjoy the views along the Road to Hana, which includes more than 600 curves and 58 one-lane bridges, all before arriving at Haleakala National Park in Kipahulu. Located on the backside of Haleakala Volcano, it's here where you'll experience 'Ohe'o Gulch, also known as Seven Sacred Pools, as well as hike the Pipiwai Trail, a gorgeous trail that takes you through giant banyan trees, waterfalls, a scenic bamboo forest and finally, a 400 foot cascading waterfall. Call (808) 784-7982.
---
Kayak, Snorkel & Waterfalls Combination
Difficulty: Moderate
Location: West Maui
Length: 2 Mile Kayak, 1 Mile Hike
Time: 7 Hours
To experience the best of both worlds, from ocean to land adventures, we highly recommend this combination tour. Begin the day with a 2 1/2 hour kayak experience along the Pali, a stretch of West Maui known for its rugged coastline and excellent views of neighbor islands such as Lana'i and Kaho'olawe, as well as plenty of Hawaiian Green Sea Turtles! You'll then head to the rainforest for a quick hike to two waterfalls and natural pools, where you're welcome to swim and jump from waterfall ledges. Excellent way to spend the day in paradise! Call (808) 784-7982.
---

---
---
Why go with a guide?
Watch this video and you'll see why. It can get dangerous without a guide that knows what they're doing, takes you to safe areas with private bridges and paths.  Call (808) 784-7982 for more information. ---