Lanaʻi Scuba Diving Locations
Barge Harbor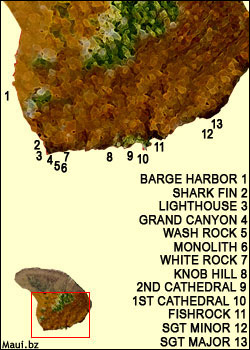 The North end of Lanaʻi's harbor drops off to around 110 feet. The reef before the drop-off becomes deeper from shore in terraces. The cracks in the terraces and reef are filled with sea life and make for a great dive. Most of the best parts of this dive are in the shallower areas, great for beginners, and a great warm-up for some of the best Lanai scuba diving spots.
Shark-Fin Rock
coral, red sponge, and plenty of friendly butterflyfish extend to 60 feet along the sides of Shark-Fin Rock on the backside of Lanai. The north side of the wall is the most spectacular.
Grand Canyon
Lanai's Grand Canyon is a lava bed reef that splits into a deep and beautiful world of canyons. Both the lava bed and the canyon are great for exploring and accommodate all levels of dive experience with the different depths. White Rock
Just inside the Monolith dive site, White Rock offers some exploratory diving of Lanai. To the East, the island is covered in small caves with many inhabitants. On the south side, divers find tropical fish such as damselfish as well as leather coral.
Monolith
Monolith is a 40-foot high sea pinnacle with a base at 80 feet. Also, just offshore, is a long lava ridge that extends to a depth of 110 feet. The ridge is surrounded by black coral and basslet fish at the base. This is a great dive for those experienced divers looking to see more at different levels.
Wash Rock
This coral and sponge-covered pinnacle stretch to a depth of 65 feet. Not far from the pinnacle is a lava ridge tube that holds many sea creatures in the deepest part of the cave.
1st Cathedral
The first of 2 great cavernous scuba diving sites, 1st Cathedral is set up as a large room with many openings for light and sealife. The ceiling of the cathedral has many holes to bring in light and make this site a fantastic place to photograph. Inside is an altar-like boulder and a tube coral and sponge-covered pinnacle in shades of orange and red. Outside of the cathedral is a 60-foot-high arch and wall that makes this dive even more interesting.
2nd Cathedral
From the main vaulted arch, the 2nd Cathedral is sectioned into multiple caverns. Among the many picturesque sea life here, Maui divers will find black coral, eels, prawns, and lobster hiding in the crevices.
Knob Hill
Knob Hill is a brilliant setting for a dive, ranging from depths of 40 to 60 feet, scuba divers will meander through lava arches, ridges, and caves. The actual Knob Hill is shallow and has a diversely populated hallow underside. Invertebrates, small fish, sponges, tube coral, and cowry shells cover the entire underside of Knob Hill. Large rays are also seen here.
Fish Rock
Here you'll find a shallow dive with clouds of tropical fish. This is a very picture-worthy site for scuba diving. The rock that these fish swarm around is next to Manele Bay. With bright-colored moon coral swaying with the currents, you'll find this to be a great dive for beginners and those looking to do a long shallow dive. A 40-foot wall sits to the east of Fish Rock and small rolling hills make up the western side of Fish Rock's ocean bottom.
Sgt. Major
This three-fingered reef has an abundance of schools of Sgt. Major damselfish. You can find spots all around here where fish and invertebrates try to blend in. Sgt. Major is a shallow dive at 40 feet deep.
Sgt. Minor Reef
To the north of Sgt Major, you'll find a less spectacular site with many lava ridges and a depth of 40 feet.
---
---