Kihei Town
Welcome to always sunny Kihei! This beautiful, near-endless stretch of beaches is located in South Maui on the leeward side of Haleakala. The weather is almost always perfect and the #1 priority is to hang out and have fun. Cruise the main drag, South Kihei Road, which runs ocean side, to watch some sand volleyball or windsurfing; or, just exhale, enjoying the crystal light reflecting off of the glossy waves. A happening little beachfront town, visitors can find shopping, family dining, nightlife, and fun on the water for any age or skill level.
See Kihei Map
This sandy Maui coastline sees only about 10 inches of rain in a whole year and enjoys lusty trade winds throughout, causing any vacationer to drool with envy. Looking out over the blue Pacific waters offers a view of Lanai, Kahoʻolawe, and Molokini. There is a considerable grassy patch at the top of Kamaole Beach Park III, where it has become a local pastime to pull up a beach chair or bocce ball set and watch the sun go down over the horizon. As the sun lazily streaks the sky with oranges and pinks, the crowd is serenaded each night with the blowing of the conch.

Winter Fun
From December 15th – to May 15th the humpback whales come and inhabit our local waters to breed and give birth. They are so plentiful and close, that you can actually count them from your beach chair in the sand! For those who want an up-close view, be sure to embark on a whale-watching boat excursion out of Kihei Boat Ramp. This is a once-in-a-lifetime experience.

Summer Fun
As summer arrives, the waters warm by a few degrees, and the whales continue on with their migration back to arctic waters. Maui water conditions shift in the summer, and local surfers are 100% "stoked" for the arrival of the South Summer Swells. Loaded with beginner and intermediate surf spots, Kihei also has many surf shops offering surfboard rentals, stand-up paddleboards, and premium lessons that promise that everyone catches their very first Maui wave.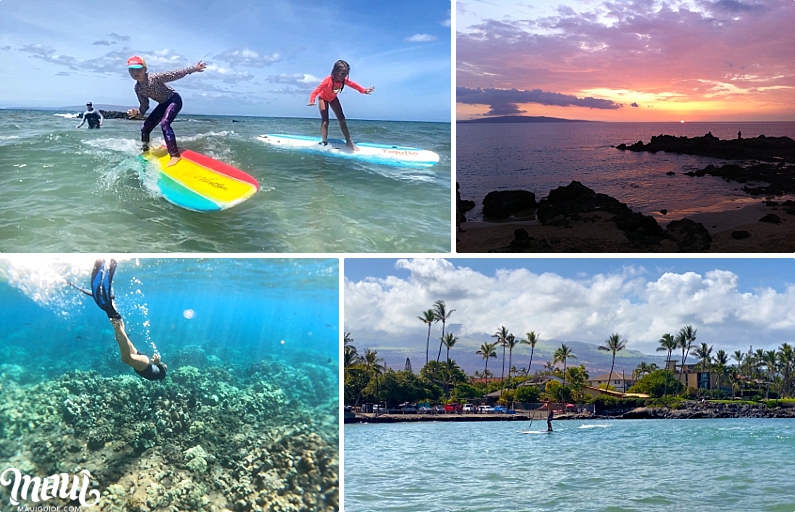 Remember to always check with your lifeguard before you go out. Kamaole Beach Parks I, II, & III all have lifeguard towers, restroom facilities, barbecue, volleyball courts, snorkeling, and excellent swimming. Kalama Park and Cove Park are known as great beginner surf spots but do not offer the safety of a lifeguard. Almost all Kihei beaches allow for wonderful swimming, snorkeling, and kayaking.
Snorkel, Scuba, Sunset Cruises
Any time of year is perfect for a snorkel trip to Molokini, a scuba diving adventure, or a sunset cocktail cruise. There are a variety of types of boats and tours available, and Kihei Boat Ramp offers the most convenient departing location for those staying in South Maui. For a really fun trip snorkeling, we suggest going with the Rafting tour to Molokini because we've always had a ton of fun with them.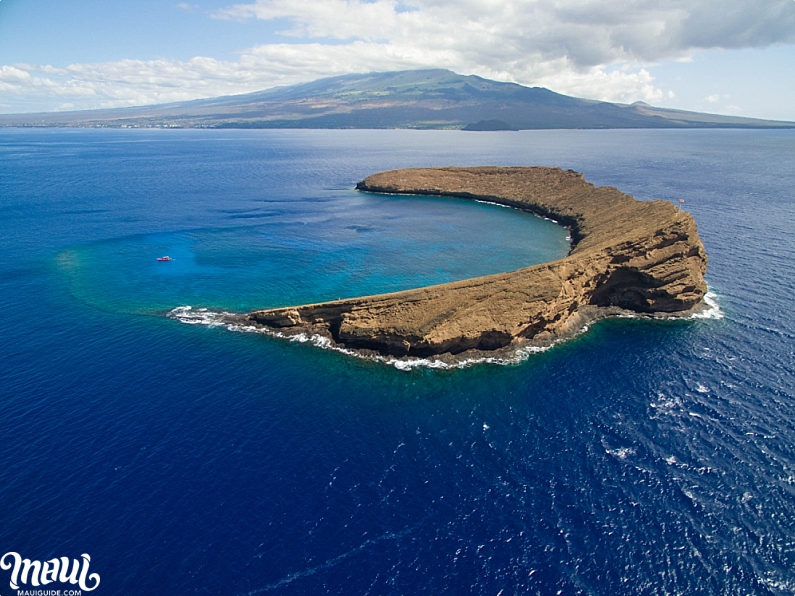 ---
Fun things to do in Kihei
Island Art Party
After spending all day floating in the warm aqua waters, you might be wondering if there are any good reasons to head for land and towel off! Besides the sharks that come out to play at night, there's another reason to make your way to dry land. Island Art Party is your answer!
From the moment you walk into the cheerful art studio, you'll feel your inner Van Gogh come to life. Painting isn't nearly as fun without a glass of wine, and they have that base covered. Their bar offers a choice of beer, wine, or Prosecco. And if you're more of a cocktail painter, they've got that too.
Each evening is staged around a certain painting, and their expert Partista (Party Artist) will guide you step-by-step through the painting. Don't let that deter you from veering from the yellow brick road though! If you want to creatively express yourself, feel free!
There are no rules, except that you come expecting to have an amazing time!
There are discounts available for Kama'aina and the Fourth Friday celebration in Kihei every month. There are classes for kids, 8 and older, at 10 am and 2 pm. 16 and older may attend the 7 pm class if accompanied by someone 21 or older.
For more information, please visit Island Art Party.
---
Maui Film Festival
If there was ever a reason to visit Maui, our film fest is a great start!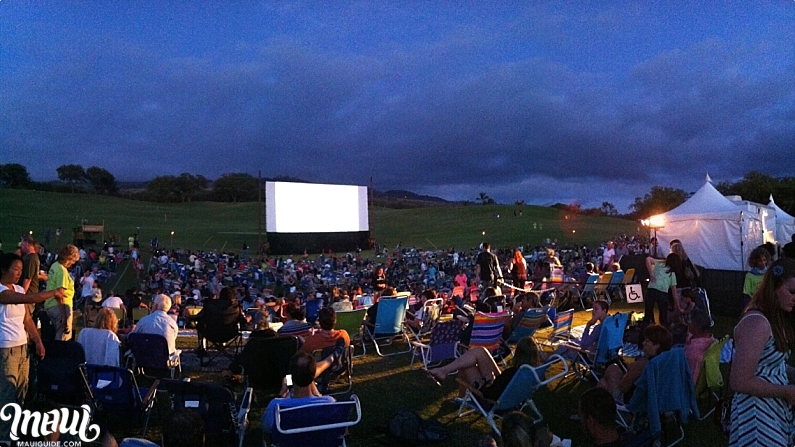 Just beyond Kihei Town, the luxurious Wailea is home to one of Maui's most noteworthy events. Now in its 21st year, the Maui Film Festival hosts five days and nights of film screenings, premiers, culinary presentations, award ceremonies, and more. Held at several dazzling venues around Maui, the Maui Film Festival explores the art of cinema, celebrates storytelling, and spotlights the beauty and culture of the Hawaiian Islands. Guests are invited to spread out under the stars and enjoy some of the best new original films at the Celestial Cinema or indulge their tastebuds at one of three 'Taste' events. The Maui Film Festival offers a variety of festival packages to choose from.
For more information and tickets, please visit Maui Film Festival or call (808) 579-9244.
---
Kihei Accommodations
Kihei is home to hundreds of vacation rentals, condos, hotels, and boutique resorts, but one of our favorite recommendations is the Kohea Kai Resort in North Kihei.
Catering only to adults, this upscale boutique resort has an ocean-view rooftop deck, which is the perfect place to unwind and watch a stunning Maui sunset before heading out for a nice island dinner or a leisurely walk on the uncrowded beach just across the street.
This property includes on-site concierge services, perfect for planning your adventures in paradise during your stay, whether it's advice about the best art galleries in Lahaina or the best restaurants in Haiku. The convenient location allows for a short drive or walk to South Maui's best restaurants, activities, beaches, and nightlife and is a great taking-off point for those planning on exploring the rest of the island.
Guests can choose from Standard, Studio, Junior Suite, Full Suite, Ocean View Penthouse, and Ocean Front Penthouse rooms, and all guests are given complimentary wifi, parking, beach towels, complimentary deluxe breakfast at the Kohea Kai Bistro, and chairs and coolers for use during their stay.
With friendly and welcoming service that goes above and beyond, no resort fee, 24-hour room service, concierge service, 24-hour desk, and complimentary adventure equipment, the Kohea Kai Resort is truly a comfortable and luxurious gem in South Maui.
For more information or to book a room, please visit Kohea Kai Resort.
---
Kihei Town History
Ahead of the onset of the tourism boom in the 1970s, Kihei was dotted with small fishing villages. It was a royal retreat in ancient Hawaii before it was discovered by the first Europeans in 1778. Captain George Vancouver, later to settle in Vancouver, BC., landed in an area across from the Aston Maui Lu Resort, which is marked by a large totem pole. Kihei went mostly untouched for years. There was a spike of military personnel during the war years on Maui, and many were stationed at the Navy's Demolition Training Station in Kihei. During its peak, there were 200,000+military on the island of Maui, outnumbering residents 4 to one. But Kihei remained very rural and rustic. In fact, the population of Kihei in 1970 was only 1,636. The last census of 2010 revealed that it had ballooned to 20,881. When tourism hit in the 1960s and 1970s, the county saw Kihei as the next intelligent area for growth. The Kihei Civic Development Plan was developed in 1970. And, a constant discussion has been underway since to maintain smart growth and integrity to the landscape and lifestyle that gained Kihei the title of "Best Town to Live In" in 2013, by our local Maui Time Weekly.
Whether watching dolphins swim at Kamaole Beach Park II or grabbing a few sarongs to take home from an open-air market to taking in a round of golf, there is certainly something for the whole family in Kihei. The possibilities are endless. Or, if you prefer downshifting in paradise, light up the BBQ grill, throw a shaka to your neighbor, and enjoy the view.
---
Sightseeing and Cultural Sights
For sightseeing, start on the north end of South Kihei Road at the Kealia Pond National Wildlife Preserve. call (808) 875-1582. This 700-acre U.S. Fish and Wildlife Conservation wetland preserve is home to the endangered Hawaiian coots, Hawaiian stilts, Hawaiian duck, and black-crowned high heron. And as a wonderful treat, the hawksbill turtle lays her eggs here from July to December. A self-guided tour takes you on the boardwalk through sand dunes and ponds with interpretive signs.
Proceeding south from here is the Kihei Canoe Club, where you can catch a glimpse of local teams heave-hoeing for upcoming outrigger canoe races. The beautifully crafted wooden canoes are usually parked on the beach for viewing.
The Hawaiian Islands Humpback Whale National Marine Sanctuary Education Center is located a short distance down the road. This visitor center houses cultural artifacts and a living classroom with scientific exhibits.
Heading further down South Kihei Road, at Kalepolepo Beach Park, you'll find a renovated ancient fishpond known as Ko'ie'ie Loko Iʻa. Local legend tells of the Menehune, mythical beings of tiny stature, who built the fish pond centuries ago. A cultural group works to preserve the pond and is eager to share the history of the area.
---
---
Kihei Map
---
Kihei Boat Ramp
---