Private Maui Campground
Camp Olowalu
Camp Olowalu is located at 800 Olowalu Village Road, Lahaina, HI
See Olowalu Map Camp Olowalu Information
Located just 6 miles southeast of Lahaina Town, the location is good for those looking to:
Go Surfing
Hike to Olowalu Petroglyphs
Camp on the Ocean
Go Snorkeling
Go Kayaking
Check out Lahaina's Front Street
Camp Privately or go Glamping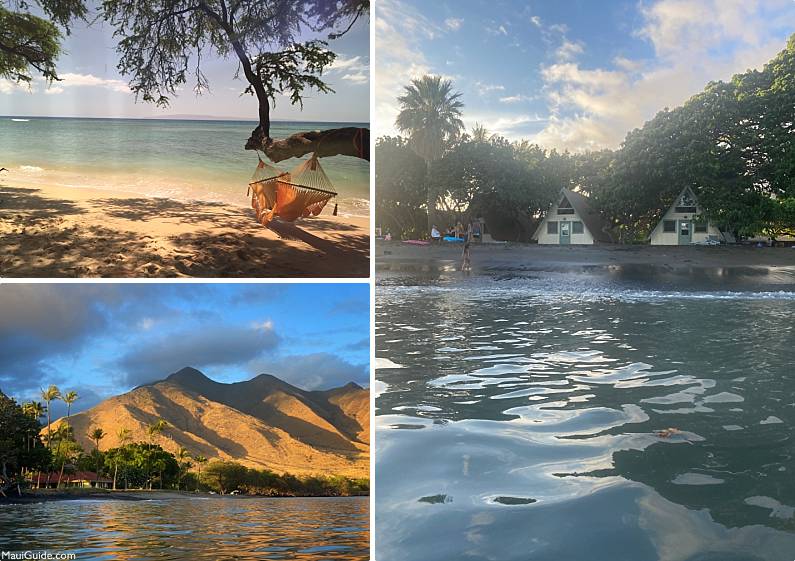 ---
Accommodations
Cabins
Camp Olowalu is set up to accommodate everyone from solo tent campers to large group retreats. There are 6 A-frame plantation-style cabins equipped with storage loft, outlets, cots, fans, and screened windows. If you're the kind of camper that likes it a little less rough, there's wireless Internet available, washer and dryer, picnic tables, a fully equipped kitchen, outdoor shower, and BBQ grill among other amenities. You can also leave all your gear at home and rent when you arrive.
Tentalows
We chose to rent a few tentalows, and we're glad we did. Our tent-camping friends came by and were pretty jealous. The property has come a LONG WAY since its roots as Camp Pecusa, but they're still working on areas. Tent campers set up in dry, hot dirt with not a lot of shade. The Tentalows are set up with enough room between each to have a little privacy, and plenty of shaded, grassy areas to hang out on.
Each Tentalow comes with an enclosed, outdoor shower with hot water, a sink, a covered lanai with chairs, a lockbox for your stuff, and at least 2 beds (we asked for cots at an extra charge for the kids.) It was pretty extravagant for camping. And, even with Kama'aina, it wasn't cheap. But we're glad we had a chance to do it! Separated, private bathrooms are very nice and shared per every 2 tentalows.
The Beach
Cabins are right on the beach, but tentalows and tent camping are at most a 2-minute walk to the water. This black/gray/reddish beach has some keawe trees, but most of it has been removed since we last visited. There are still a few trees to be wary of when walking barefoot. This is a great spot for snorkeling, swimming, kayaking, whale watching (in season), and sometimes even longboarding. We got a few waves on this last trip, though it was tiny. Perfect for learning. They also have a shower at the beach. And yes, this is the area where the group of girls had the greatest kayak whale watch ever!
We are not being paid to promote Camp Olowalu. We just really enjoyed our experience and thought it worth sharing.
---
---
Camp Olowalu Map
---