Snorkeling is one of the most popular outdoor activities on Maui, and it's easy to see why. With unique marine life like Hawaiian Green Sea Turtles, Hawaiian Spinner Dolphins, rays, tropical fish and more, there's plenty of beauty to explore both above and below the ocean.
We highly recommend snorkeling at some of Maui's best locations listed below during your next trip. Just remember to follow the basic safety rules when swimming, and when in doubt, don't go out!
Best Snorkeling Beaches: Maui Edition
What You'll Need:
Mask
Snorkel
Fins
Sunscreen
The easiest way to get snorkeling gear once you've arrived on Maui is to rent it by the day or week from Boss Frog's. Their Deluxe Snorkel Sets are inexpensive and include everything you need, including a mesh carrying bag for your gear. They have tons of shop locations all throughout the island and can be reached at 808.856.4264.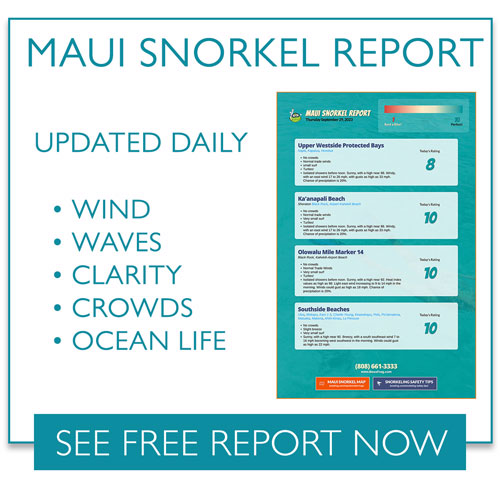 Kapalua Bay
Located in a gorgeous area of West Maui, Kapalua Bay is one of our top picks for snorkeling on Maui. The gently sloping sand and protected cove location make it perfect for all levels of swimmers (including the kiddos), and there is plenty of marine life to enjoy directly offshore. Head in and out of the water on the left-hand side, and be treated to views of the intricate reef, populations of Hawaiian Sea Turtles, and tons of tropical fish, including species like butterflyfish, parrotfish, needlefish, and the famed state fish, humuhumunukunukuapua'a. Also, keep an eye out for the Hawaiian Monk Seal known to frequent the area (just be sure to keep your distance!).
Ka'anapali Beach
Without a doubt, one of the most beloved beaches in all of Maui, Ka'anapali Beach has taken home the title of 'America's Best Beach' more than once. On the far right side of the beach lies Black Rock, known by ancient Hawaiians as the location where the soul could leap into the afterlife. Today, Black Rock is known for its nightly cliff diving ceremony, and one of the best snorkeling areas on Maui (just leave plenty of room for the cliff divers!). In winter months, humpback whale songs can be heard echoing off the underwater lava formations, while trumpetfish, surgeonfish, goatfish, butterflyfish, Hawaiian Green Sea Turtles, and more can be seen year-round.
Olowalu
Another West Maui snorkeling gem, mile marker #14 marks the entrance point for Olowalu, an area known for its stunning and vast coral reef systems, as well as Hawaiian Green Sea Turtle cleaning stations, a manta ray cleaning station and tons of tropical fish populations. Be sure to wear slippahs on your walk to the water, as there are plenty of kiawe tree thorns in the area! Keep an eye out for octopi and eels hidden within the reef system, and enjoy views of some of the most stunning coral reef formations in the Hawaiian Islands!
Kama'ole Beach II
Conveniently located in central Kihei, Kama'ole Beach II is a wonderful place to soak up some sun and enjoy a picturesque beach day with friends and family. Onsite facilities include volleyball nets, picnic tables, restrooms, and more, as well as soft, sandy entrances for relaxed swimming and snorkeling. Head to either end of the beach to snorkel along the reef peninsulas, and be treated to views of Moorish idols, goatfish, trumpetfish, jacks, wrasse, and typically plenty of turtles. A perfect choice if you plan on bringing the kids, or less experienced members of your travel group.
Five Caves
For experienced snorkelers, we highly recommend a visit to South Maui's 5 Caves, also commonly known as 5 Graves. Since there is no beach at this location, the entrance and exit can be a bit slippery and requires a swim to get out of the cove and around to the cave area. Once you're here, however, you'll quickly understand why it's worth the effort! Tons of turtles are seen throughout the area, and the underwater cave formations are scenic and stunning. Enjoy plenty of marine species like unicornfish, needlefish, yellow tang, boxfish, and more, and keep an eye out for the resident whitetip reef sharks (which are not dangerous). Amazing!
If you're looking to snorkel at Molokini, check out Redline Rafting for the closest departure point and a really fun ride!
Mahalo for reading our guide to the best snorkeling beaches on Maui! For more suggestions, please visit this excellent snorkeling guide from the wise folks at Boss Frog's. Enjoy your time in paradise, and remember to follow basic ocean safety standards – bring a buddy, don't swim in murky water, etc. – to make the most of your time. Aloha!