Spring has almost sprung here on The Valley Isle! Whether you head to a rockin' concert, peruse some of the best local markets, or simply enjoy a beach day in the height of whale season, there are a handful of things to keep you busy while on Maui this month.
For more information or to see the best weekly, monthly, and yearly celebrations, check out our calendar of Upcoming Maui Events.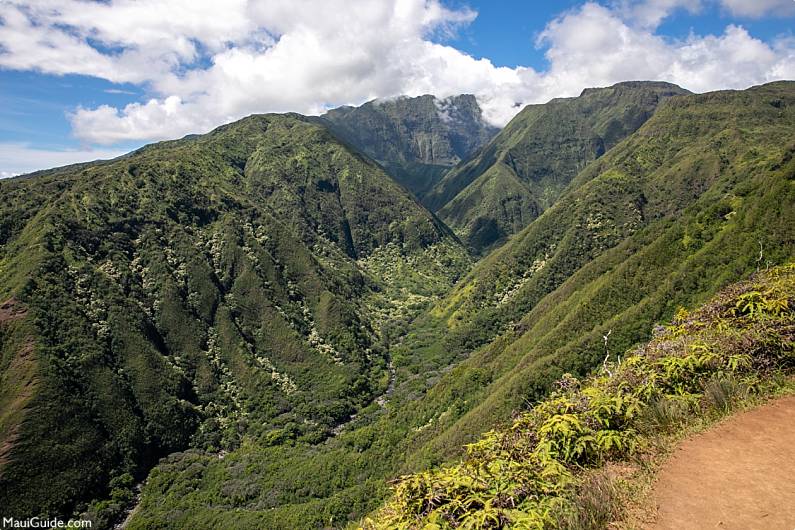 Maui Events March 2023
Live music is still happening around the island, with local musicians jamming almost every night at some of the island's best restaurants. Check out Manaʻo Radio's Music2Nite site for a full lineup of Live Music on Maui.
What's Happening On Maui March 2023?
March 5 
Maui 5K: Calling all keiki! The Maui 5K is a chance to showcase your speed and school spirit. Raise money for your school as you run or walk in the one mile challenge or sprint in the 5K. Sign-up closes March 1 at midnight. 
March 10 
Champagne Hale at the Cliff House: Maui's finest champagne pairing is back! Enjoy champagne cocktails and a variety of champagnes paired with an innovative dining menu in a spectacular sunset setting— the Kapalua Cliff House. Champagne Hale runs March 10 to 12 and again from March 17 to 19. Advanced registration required. 
Rebelution: Rebelution is one of the most-recognized groups in contemporary island reggae. During their 15-year musical career, the group earned a Grammy nomination and skyrocketed to the top of the Billboard Music charts after the release of five consecutive albums. Maui Arts and Cultural Center, 7:00 p.m.
PhaseOne: Sydney-born Graeme Duffy, also known as Phase One, is a dubstep, metal, and electronica producer currently based in Los Angeles. Join him for an electric night of music at Da Playground. 9:00 p.m. 21+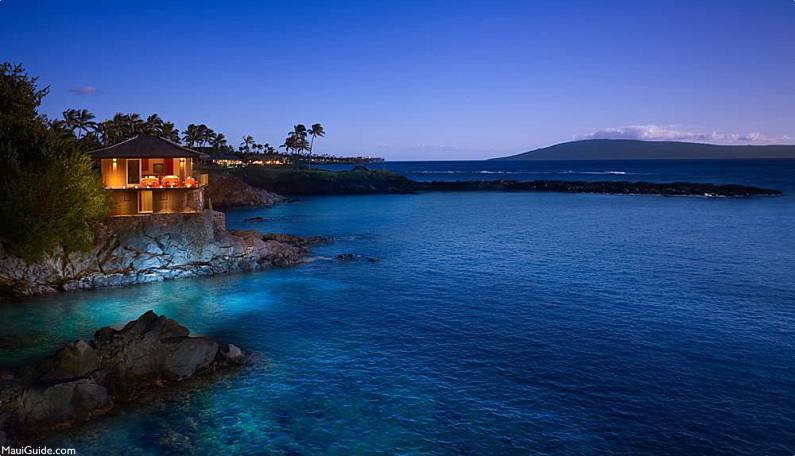 March 11
Artist2Artist with Henry Kapono – Hawaiian Legends Hana Hou: Grammy nominated artist Henry Kapono is back to share the stage with Keola Beamer and Moanalani Beamer— a slack key master and kumu hula, respectively.  Henry will "jam" and "talk story" one-on-one with each artist, giving the audience insight to the spirit and aspirations of the people behind the music. MACC, 7:30 p.m.
March 12
Maui Pops Orchestra: Spring Pops with Kalani Pe'a: Three time Grammy-award winning vocalist Kalani Pe'a is bringing his "contemporary Hawaiian soul" sounds to the MACC, featured alongside the stylings of the Maui Pops Orchestra. Enjoy several of Pe'a's original compositions with a full orchestra backup. MACC, 3:00 p.m.
DJ Dan: With a feel-good style and high energy house music, DJ Dan is known as one of America's hardest working DJs and is a powerful influence on electronica music. Get your groove on with this West Coast house music legend at Da Playground. 8:30 p.m. 21+
March 17 
Frankie Valli & The Four Seasons: Known for unforgettable tunes like Sherry, Walk Like A Man, and of course, Grease, Frankie Valli & The Four Seasons are American music legends. Valli's career inspired the iconic Broadway musical, Jersey Boys, which chronicles Valli and the Four Seasons' musical career and features all their biggest hits. Don't miss them at the MACC!
Brown Chicken Brown Cow: Celebrate St. Patrick's Day with Maui's hottest string band, Brown Chicken Brown Cow. The four-person, multi-instrumentalist group has roots in bluegrass, folk, old-time Celtic and even classical, making them one of Maui's most dynamic musical acts. Da Playground, 8 p.m. 21+
March 18 
Joshua Raddin: Joshua Raddin surfaced in 2004 as an engaging singer-songwriter. In the years since, he's garnered over one billion streams, sold a million-plus albums worldwide, and earned a gold certification for the single I'd Rather Be With You. Maui Arts and Cultural Center, 7:30 p.m.
March 24
Retrospective: Eddie Flotte: Eddie Flotte's vivid paintings memorialize Maui's bygone days— when green sugar stalks still waved in the Central Valley and mom and pop shops proliferated. Step back in time and view his nostalgic art at the Hui Noeau. Flotte's exhibit runs until May 12.
March 26 
"Weird Al" Yankovic: "Weird Al" Yankovic is the biggest-selling comedy recording artist of all time. A five-time Grammy winner, his 2014 release Mandatory Fun was the first comedy album in history to debut at #1 on Billboard's Top 200. Don't miss this comedic legend at the MACC.
March 25 
The Great Whale Count: Part of the Maui Whale Festival, the Great Whale Count brings volunteers together across the island to count whales. The Count is part of a long-term survey cataloging humpback whale behavior in the islands, and is one of the longest running citizen science projects on the planet! 
March 31 
Bonnie Raitt Just Like That… Tour: Bonnie Raitt is givin' em somethin' to talk about. Best known for her hits I Can't Make You Love Me and Something To Talk About, the 73-year-old musician is hitting the road once again— this time with a highly-anticipated stop at the Maui Arts and Cultural Center. 7:00 p.m.
Weekly Events
Mondays
Lei Poʻo Making: The Shops of Wailea invites guests to learn how to weave ti leaf leis using ferns and flowers. Lei Po'o can be worn on the head and was typically used as a gift on special occasions by Ali'i (Hawaiian Royalty). This event is open to both keiki and adults and runs from 2:30 to 3:30 pm.
Tuesdays
Tuesday Trivia at Mahalo Aleworks: Head to Upcountry's only brewery to test your trivia skills. Be sure to make it by 5:45 pm to register, trivia kicks off at 6 pm. Teams can be no larger than four. The winning team is awarded a $50 brewery gift card!
Polynesian Show at The Shops: This weekly show will highlight Hawaiian hula as well as other dances of Polynesia. The performance will take place at the Shops of Wailea from 5:30 to 6:30 pm.
Coconut Husking at The Shops: From 2:30 to 3:30 pm weekly, the Shops of Wailea will be hosting demonstrations of the traditional and modern methods of husking a coconut. Learn how the Hawaiians would use every part of the coconut from food to crafting eating utensils, jewelry as well as furniture.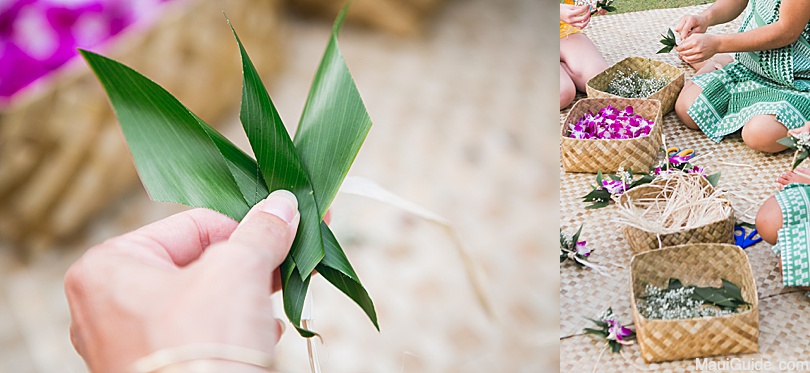 Wednesdays 
Slack Key Guitar Show: The Masters of Hawaiian Music Slack Key Show is open for live shows once again. The Slack Key Show ohana will perform each week at 6:30 pm at the Napili Kai Beach Resort. Tickets are required for entry, this show is also streamed online.
Thursdays
Thursday Night Jams: Come hang at the Plate Lunch Marketplace (you know, the food truck lot across from Costco Gas) and enjoy live music every Thursday night from 6-8 p.m. Don't forget to pick up an ono smash burger from Haven's either! 
Polynesian Show at the Shops: This weekly show will highlight Hawaiian hula as well as other dances of Polynesia. The performance will take place at the Shops of Wailea from 5:30 to 6:30 pm.
Coconut Frond Weaving at the Shops: The Shops of Wailea invites guests to try their hand at the highly developed Hawaiian skill of weaving. Coconut frond weaving was used to make baskets, mats, and even toys. This event runs weekly from 4:30 pm to 5:30 pm.
Fridays
Papa Hula at the Shops: Hosted at the Shops of Wailea, Papa Hula is a celebration of the Hawaiian way of life. Enjoy a complimentary dance lesson, complete with costumes and accessories, and the dance movements and their meanings. This interactive performance runs from 4:00 pm to 5:00 pm.
Saturdays
Upcountry Farmers Market: Shop some of the best local souvenirs on the island, indulge in delicious food, and support local farmers at one of Maui's biggest weekly events. Don't forget to set your morning alarm, as this market favors the early shopper. The Upcountry Farmers Market runs from 7:00 to 11:00 am every Saturday at the Kulamalu Town Center in Pukalani.
Sundays
Maui Gift and Craft Fair: Stop by the Lahaina Gateway Center and browse West Maui's largest gift and craft fair. This weekly event hosts over 50 vendors, showcasing jewelry, photography, art, crafts, keiki activities, and more. Maui Gift and Craft Fair runs from 9:00 am to 2:00 pm every Sunday.
Maui Sunday Market: Featuring some of Maui's most renowned food trucks, local vendors, and quality entertainment, the Maui Sunday Market is one of the island's most popular weekly events. Centrally located at the Kahului Shopping Center, the Maui Sunday Market draws locals and visitors from all corners of the island. The event runs every Sunday from 4:00 pm to 8:00 pm.
Family Class at Island Art Party: That's right, Island Art Party is back in action! Maui's most fun, family-friendly art class is once again accepting bookings. Sundays are reserved for Family Class, where ages 8 and up are welcome. From mermaid to sunset scenes and more, select the masterpiece you want to create and bring home your own artwork!
Mahalo for reading our list of activities on Maui in March 2023! Have an event you'd like to add? Let us know in the comments or contact us about getting featured in our monthly calendar and blog post. Mahalo!