What a beautiful winter we've been having on Maui! February brings with it a handful of spirited events, like reggae concerts at the MACC, the Upcountry Farmers Market, art parties, and the Great Whale Count. Whatever you get up to this month, we hope you enjoy a fun and safe tropical winter from the best island in the Pacific!
For more information or to see the best weekly, monthly and yearly celebrations, check out our calendar of Upcoming Maui Events.
What's Happening on Maui for February 2023?
Live music is still happening around the island, with local musicians jamming almost every night at some of the island's best restaurants. Check out Mana'o Radio's Music2Nite site for a full lineup of Live Music on Maui.
Maui Events February 2023
February 3 
The Password Is Love: Come shake it to the best house music on Maui at Da Playground. The island's most renowned DJs are coming together to bring you a night of epic grooves. 21+. 9 p.m.
February 4
Nu'u Refuge Volunteer Day: Nu'u's diminishing wetlands need your help! Help preserve this habitat for native birds by joining Hawaii Land Trust in removing invasive species and planting native vegetation. 9 am to 12 pm. 
The Candy Shop – Cabaret Shop: Move Me Dance company presents a contemporary rendition of Cabaret on Da Playground stage. The show not only showcases the talented creatives who call Maui home but also celebrates movement and self-expression. 21+. 9 p.m.
February 5 
Brett Young: Hailing from Orange County, California, Brett Young's music has been described as "West Coast-meets-Southern sound." The country singer-songwriter is best known for penning his smash hit In Case You Didn't Know. Join him at the Maui Arts and Cultural Center for a night of soulful sounds. 7:30 pm. 
February 9 
Tavana: The magnificent music man and one-man band from Oahu returns to Da Playground to share his celebrated sound. Tavana is an admired showman across Hawaii, with Na Hoku Hanohano awards and critically-acclaimed albums bursting with heart, soul, and tenacious talent. 21+. 7 p.m.
February 10 
Champagne Hale at the Cliff House: Maui's finest champagne pairing is back! Enjoy champagne cocktails and a variety of champagnes paired with an innovative dining menu in a spectacular sunset setting— the Kapalua Cliff House. Champagne Hale runs February 10 to 12. Advanced registration required.
Dayan Kai: Mauka Makai: This blind, Maui-born, multi-instrumentalist always puts on a show to remember. Don't miss his humorous stage presence and dynamic performance at the Pro Arts Playhouse in Kihei. 7:30 pm. 
SOJA: Grammy award-winning group SOJA is taking to the MACC stage for an evening of reggae roots. The Arlington, Virginia-based band will be joined by a star-studded lineup including Tribal Seeds, Likkle Jordan, Ka'ikena Scanlan, and Natural Vibrations. 7:30 p.m.
Inna Vision: Inna Vision was founded on Maui in 2005, and since then the reggae group has toured across America with reggae heavy hitters like Tribal Seeds and The Steppas. Don't miss their island-style roots reggae sounds at Da Playground. 21+. 11:00 p.m.
February 11
Dirty Cello: San Francisco-based duo Dirty Cello brings the cello to life in the styles of blues, rock, and Americana. Dirty Cello has shared their high-energy string-sounds with the world, from China to Italy, and now the Pro Arts Playhouse Kihei stage. 7:30 p.m.
Venus… The Goddess of Love!: Divine Feminine Dance™  at Island Spirit Yoga guides you to move your body on the outside, so that you can feel your energy move on the inside. Awaken and activate the energies of Venus within you, followed by the harmonic vibrations of the alchemy singing crystal bowls. Advance registration required.
Artist2Artist with Henry Kapono – Hawaiian Legends Hana Hou: Grammy nominated artist Henry Kapono is back to share the stage with Jerry Santos of Olomana— one of the islands' most influential contemporary Hawaiian bands.  Henry will "jam" and "talk story" one-on-one with each artist, giving the audience insight to the spirit and aspirations of the people behind the music. MACC, 7:30 p.m.
February 16 
An Evening with David Sedaris: This best-selling author has become a master at charming audiences around the nation with his adept storytelling and witty observations.. His special appearance at the MACC also includes a book signing and Q and A. 7:30 p.m.
John Craigie: Rolling Stone likened John Craigie's sound to "a Sixties-Seventies songwriter vibe with the laid-back cool of Jack Johnson." Craigie will be joined onstage by Maui's own Desert Hollow. 7:30 p.m.
February 17 
TUMUA: Not Even Joking Tour: Tumua Tuinei is a local comedian of heroic proportions, winning over audiences across the state with uproarious anecdotes and relatable jokes about his local family. 7:00 p.m. and 9:30 p.m. 
February 18 
Cabaret & Cocktails: Cabaret & Cocktails returns to ProArts with Hex Your Ex! A Post-Valentines Burlesque. Join us for this "Halloween-in-February" performance featuring Maui's finest including Lily O Lei, the Bar Backs, The Baroness, and more, hosted by the infamous Madame Munchausen. 7 p.m. and 9 p.m.
February 22
Dinosaur Jr: Dinosaur Jr. have earned a reputation as one of the formative influences on American alternative rock. Formed in 1984, they injected late-'80s alternative rock with monumental levels of pure guitar noise. Don't miss this special performance at the MACC. 7:30 p.m.
February 23
Jim Gaffigan: Dark Pale Tour: Whether you know Jim Gaffifan from his appearances in his Super Troopers, Being Frank, The Pale Tourist, or don't know him at all, you're sure to become an instant fan of this six-time Grammy award-nominated comedian the second he hits the MACC stage. 7:30 p.m.
The Expendables: A quarter-century since The Expendables' inception, elementary school buddies Raul Bianchi, Adam Peterson and Geoff Weers, along with bassist Ryan DeMars, who joined in 2000, have forged a unique original sound born in the laid-back beach life of their Santa Cruz, CA. hometown. Catch this reggae group on Da Playground Maui stage. 21+. 8 p.m.
February 25 
Great Whale Count: The annual Great Whale Count, part of Maui Whale Festival, brings volunteers together to count whales from shore as part of a long-term survey of humpback whales in Hawai'i. This event provides a snapshot of trends in relative abundance of whales and is one of the world's longest-running community scientist projects. 
KA HUAKA'IHELE "The Journey": Grammy nominee and multi Nā Hōkū Hanohano Award winner, Kumu Hula Kamaka Kukona has reached a milestone in his hula career – 20 years of teaching hula. Enjoy a beautiful evening helping him celebrate this momentous occasion along with the students of Hālau o ka Hanu Lehua and several special guest artists including luminaries Kalani Pe'a & Amy Hanaiali`i. MACC, 6:30 p.m.
February 26
Maui Pops Orchestra: Winter Pops: The Maui Pops Orchestra invites you to journey back in time to the 1970s, when James Taylor, Carole King, Fleetwood Mac, and Joni Mitchell were topping the charts. This special installment of Maui Pops Orchestra will feature special guests Swearingen and Kelli. 3:00 p.m.
Weekly Events
Mondays
Lei Po'o Making: The Shops of Wailea invites guests to learn how to weave ti leaf leis using ferns and flowers. Lei Po'o can be worn on the head and was typically used as a gift on special occasions by Ali'i (Hawaiian Royalty). This event is open to both keiki and adults and runs from 2:30 to 3:30 pm.
Tuesdays
Tuesday Trivia at Mahalo Aleworks: Head to Upcountry's only brewery to test your trivia skills. Be sure to make it by 5:45 pm to register, trivia kicks off at 6 pm. Teams can be no larger than four. The winning team is awarded a $50 brewery gift card!
Polynesian Show at The Shops: This weekly show will highlight Hawaiian hula as well as other dances of Polynesia. The performance will take place at the Shops of Wailea from 5:30 to 6:30 pm.
Coconut Husking at The Shops: From 2:30 to 3:30 pm weekly, the Shops of Wailea will be hosting demonstrations of the traditional and modern methods in husking a coconut. Learn how the Hawaiians would use every part of the coconut from food to crafting eating utensils, jewelry as well as furniture.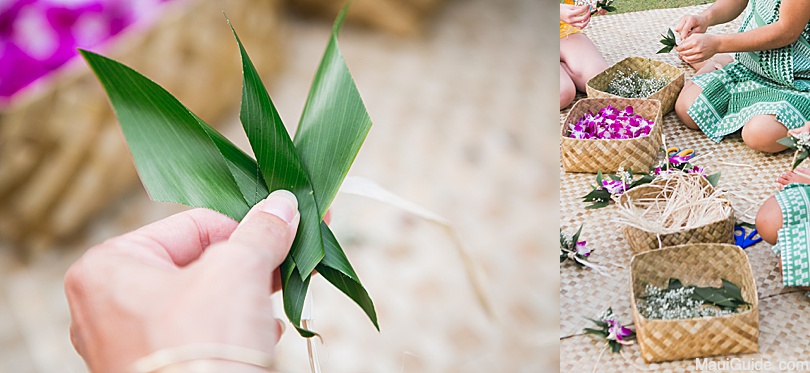 Wednesdays 
Lei Po'o Making: The Shops of Wailea invites guests to learn how to weave ti leaf leis using ferns and flowers. Lei Po'o can be worn on the head and was typically used as a gift on special occasions by Ali'i (Hawaiian Royalty). This event is open to both keiki and adults and runs from 2:30 to 3:30 pm.
Slack Key Guitar Show: The Masters of Hawaiian Music Slack Key Show is open for live shows once again. The Slack Key Show ohana will perform each week at 6:30 pm at the Napili Kai Beach Resort. Tickets are required for entry, this show is also streamed online.
Thursdays
Polynesian Show at the Shops: This weekly show will highlight Hawaiian hula as well as other dances of Polynesia. The performance will take place at the Shops of Wailea from 5:30 to 6:30 pm.
Coconut Frond Weaving at the Shops: The Shops of Wailea invites guests to try their hand at the highly developed Hawaiian skill of weaving. Coconut frond weaving was used to make baskets, mats, and even toys. This event runs weekly from 4:30 pm to 5:30 pm.
Fridays
Papa Hula at the Shops: Hosted at the Shops of Wailea, Papa Hula is a celebration of the Hawaiian way of life. Enjoy a complimentary dance lesson, complete with costumes and accessories, and the dance movements and their meanings. This interactive performance runs from 4:00 pm to 5:00 pm.
Saturdays
Upcountry Farmers Market: Shop some of the best local souvenirs on the island, indulge in delicious food and support local farmers at one of Maui's biggest weekly events. Don't forget to set your morning alarm, as this market favors the early shopper. The Upcountry Farmers Market runs from 7:00 to 11:00 am every Saturday at the Kulamalu Town Center in Pukalani.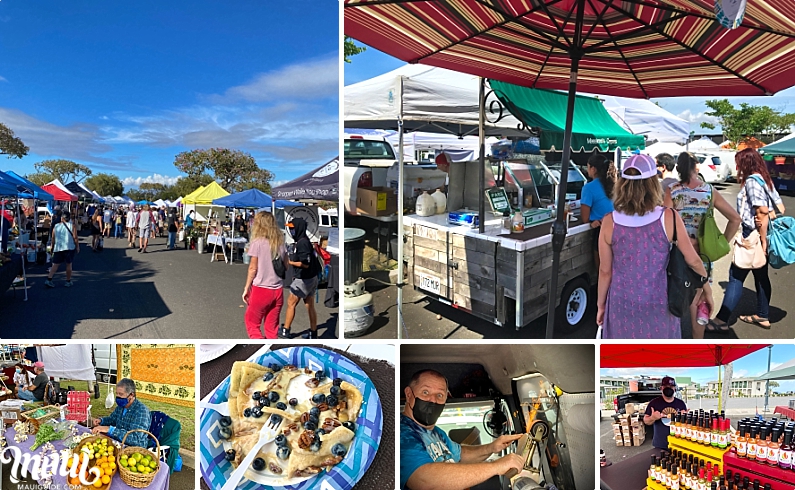 Sundays
Maui Gift and Craft Fair: Stop by the Lahaina Gateway Center and browse West Maui's largest gift and craft fair. This weekly event hosts over 50 vendors, showcasing jewelry, photography, art, crafts, keiki activities, and more. Maui Gift and Craft Fair runs from 9:00 am to 2:00 pm every Sunday.
Maui Sunday Market: Featuring some of Maui's most renowned food trucks, local vendors, and quality entertainment, the Maui Sunday Market is one of the island's most popular weekly events. Centrally located at the Kahului Shopping Center, the Maui Sunday Market draws locals and visitors from all corners of the island. The event runs every Sunday from 4:00 pm to 8:00 pm.
Family Class at Island Art Party: That's right, Island Art Party is back in action! Maui's most fun, family-friendly art class is once again accepting bookings. Sundays are reserved for Family Class, where ages 8 and up are welcome. From mermaid to sunset scenes and more, select the masterpiece you want to create and bring home your own artwork!
Mahalo for reading our list of the best events in February 2023. Enjoy your tropical rendezvous on The Valley Isle, and be sure to get in touch if you have an event you'd like to list. Happy romancing!